Hellenic Community Raffle Permit No.LS218243322
Sales of tickets in this raffle have ceased pending approval of the Gaming and Wagering Commission to cancel the raffle.
All ticket purchasers will be refunded once the Commission has approved cancellation of the raffle.
President's Pasca Message
The President of the Hellenic Community of Western Austyralia, Mr Paul Afkos OAM and Committee extend to all their best wishes for a joyful and Holy Pascha.
Let us all rejoice the resurrection of our Lord Jesus Christ. In him was life and the light for us all.
We look forward in seeing every member at our Church of Saint Constantine and Helene, so we may celebrate together this special occasion.
Easter Parking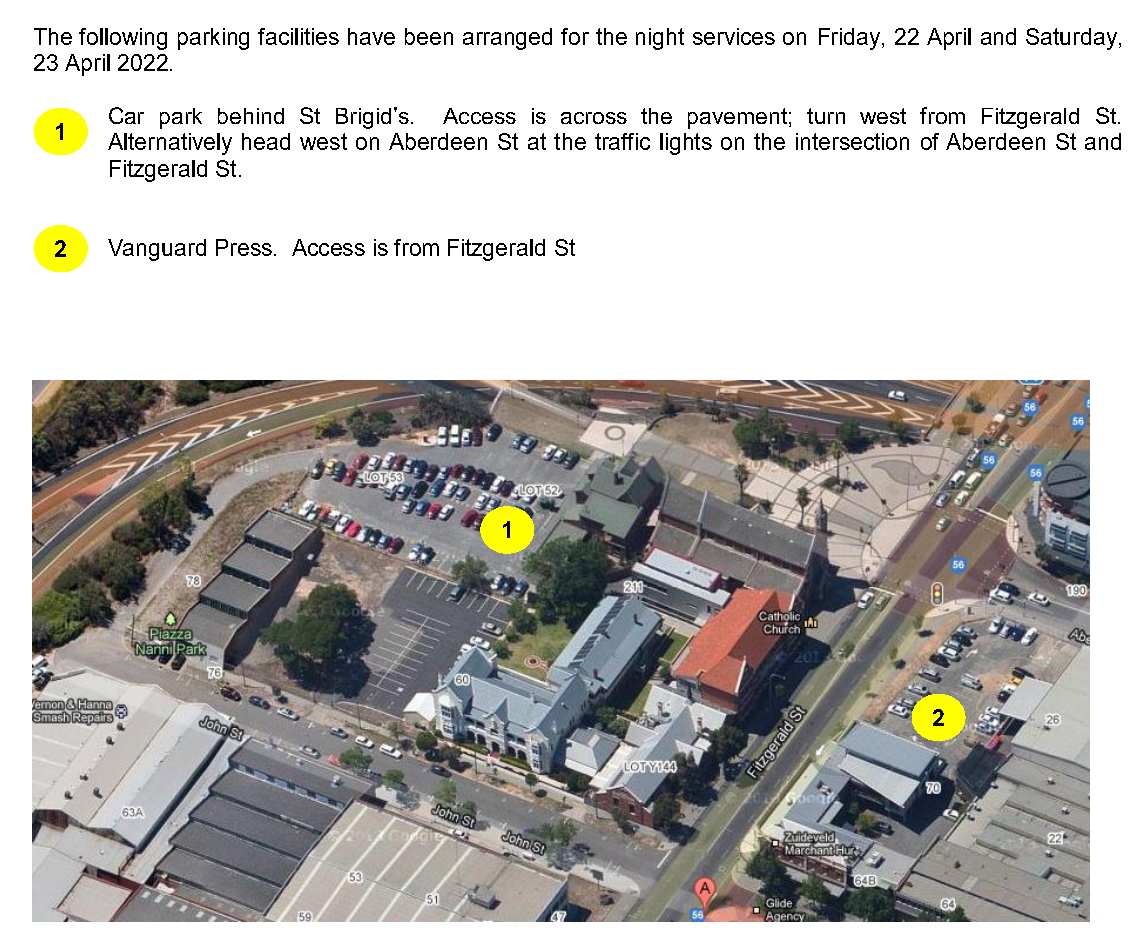 Annual General Meeting
The meeting was held on Sunday 10 April 2022 with 75 members attending from 12.00 midday to 2.30 pm.
Special resolutions were passed to extend the term of Committees elected from June 2023 from 2 years to 3 years and to allow resignations of a Vice President, Secretary, or a Treasuer to be filled from within the Committee.
Messrs Larry Doropoulos and Daman Vanoutsis were elected Trustees to replace retiring Chairman of Trustees, Con Berbatis, and Trustee George Georgiou. The Community thanks Con and George for their service from 2018.
The Election Committee for elections in June 2023 was elected with Helen Christopher and Chris Mazgaltzidis, Marios Theodorou was relected along with Stratis Pantazis, and Marina Karamtsou.
The St Andrew's Grammar Inc. constitution was amended to correct mainly drafting errors in the revised constitution passed at the Extraordinary General Meeting in May 2019.
There was a request at the Annual General Meeting for more information on the annual accounts, identifying the detail of consolidated reimbursement and recharges on page 12 and of St Andrew's Grammar Commissions and charges on page 46.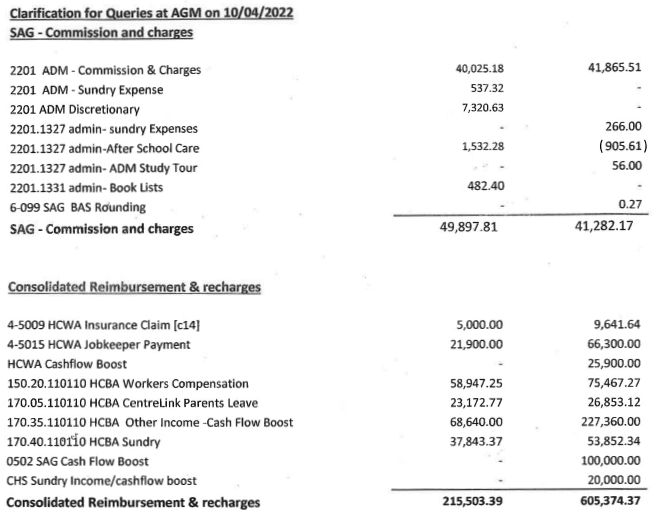 Hellenic Community Raffle - Tickets on Sale – Drawn at Saints Constantine and Helene lunch, 22 May 2022
Ticket available from Saints Constantine and Helene Church Committee, Hellenic Community Committee members, and Hellenic Admin.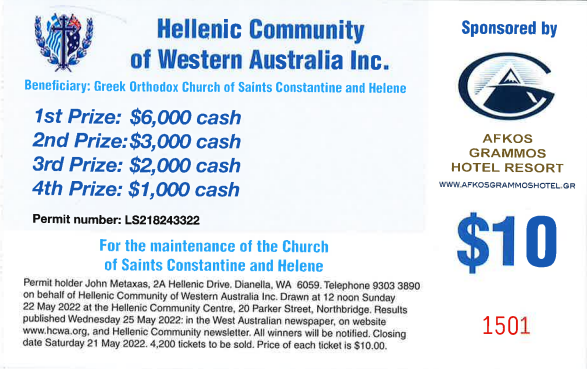 Hellenic Community Aged Care
A covid outbreak was reported to the Department of Health on Sunday 6th March 2022, when one resident tested positive. Hellenic Community Aged Care went into immediate lockdown. In compliance with directives, all residents were confined to their rooms.

In the first week, the outbreak was confined to one wing but spread to all wings by the third week. Normal services were maintained with toileting and showers, breakfast, morning and afternoon tea, lunch, dinner, general practitioner visits, and one-to-one therapeutic support visits. Hellenic Aged Care was inspected by the Commonwealth Department of Health Clinical First Responder (CFR) to assess infection control procedures and preparedness for managing the outbreak. The CFR advised the facility was one of the best she has visited in over 300 facilities across Australia.

Hellenic Aged Care was fortunate to receive Commonwealth government surge workforce support with a registered nurse, enrolled nurse, and carer. Australian Defence Force (ADF) personnel arrived to provide 'general duties' support but determined the facility was operating without any need for the ADF.

By Monday 4 April the outbreak was over. Many thanks to Yemi Asfaw, Site Care Manager, for carrying much of the day to day responsibility of managing the outbreak response operations. Yemi was supported by a dedicated team of Coordinators, registered and enrolled nurses, care staff, kitchen staff, laundry and maintenance staff who remained on-site for the duration of the outbreak. A great team effort in supporting our vulnerable residents.
Blessing and cutting of the vasilopita at the Hellenic Community Hall
On Saturday 9-2-2022, in the presence of the President of the Hellenic Community of Western Australia, Mr. Pavlos Afkos, the blessing of our school took place in the Church of Saints Constantine and Helene by His Grace Bishop Elpidios and the Father-Eleftherios Gerovasilis. Present where the students of the Saturday afternoon school, the teachers and the parents of students.
The principal of the school Mr. Savvas Papasavvas thanked His Grace Bishop Elpidios and Father-Eleftherios Gerovasilis for the blessing and mentioned that this year will be a productive one for all students. At the end he wished everyone a Happy New Year with health and happiness.
---
Αγιασμός και κοπή βασιλόπιτας στο χολ της Ελληνικής Κοινότητας
Το Σάββατο 9-2-2022 παρουσία του προέδρου της Ελληνικής Κοινότητας Δυτικής Αυστραλίας κυρίου Παύλου Άφκου πραγματοποιήθηκε ο αγιασμός του σχολείου μας στον καθεδρικό ναό των Αγίων Κωνσταντίνου και Ελένης από τον Σεβασμιότατο Επίσκοπο Κυανέων Ελπίδιο και τον ιερέα του ναού Ελευθέριο Γεροβασίλη, παρουσία των μαθητών του σαββατιανού απογευματινού σχολείου, των εκπαιδευτικών και των γονέων των μαθητών.
Ο διευθυντής του σχολείου κύριος Σάββας Παπασάββας ευχαρίστησε τον Σεβασμιότατο Επίσκοπο Κυανέων Ελπίδιο και τον πατέρα Ελευθέριο Γεροβασίλη για την τέλεση του αγιασμού και τόνισε ότι η φετινή χρονιά θα είναι μια παραγωγική και αποδοτική για όλους τους μαθητές και κάλεσε τους γονείς να συστρατευτούν μαζί με την Κοινότητα και το διδακτικό προσωπικό για να πετύχουν τον απώτερο στόχο του σχολείου μας που είναι η διατήρηση της εθνικής μας ταυτότητας.
Τελειώνοντας ευχήθηκε σε όλους Καλή Χρονιά με υγεία κι ευτυχία.
This report covers the period from July 2021. On 27 January 2022 the president Mr Paul Afkos OAM and the full Committee of the Hellenic Community of WA (HCWA) elected in June 2021 met with Trustees Effie Mazgaltzidis. George Georgiou and Dr Con Berbatis from 630-830pm in the St. Andrews Grammar boardroom. They discussed matters raised by members and Trustees over the past 12 months in correspondence and in meetings held with the Community executive and officers.
Starting from Monday 7th of March at 6:00PM, join us at the Church of Evangelismos in West Perth!