Today, Thursday 20th February, is Tsiknopempti (Smoky Thursday) for 2020, otherwise referred to as the week of Kreatini. This is a special day of the year in Greece, where a large amount of meat is traditionally grilled and consumed, just before the arrival of Great Lent, marking the lead up to Pascha and also the official start of Apokries (carnival season).
The event is always celebrated on Thursday (Pempti) and consists of the word "tsikna" meaning the burning of food. People who fast for 40 days without meat during Easter lent use Tsiknopemtpi as a day to eat as much meat as they want, right before fasting begins.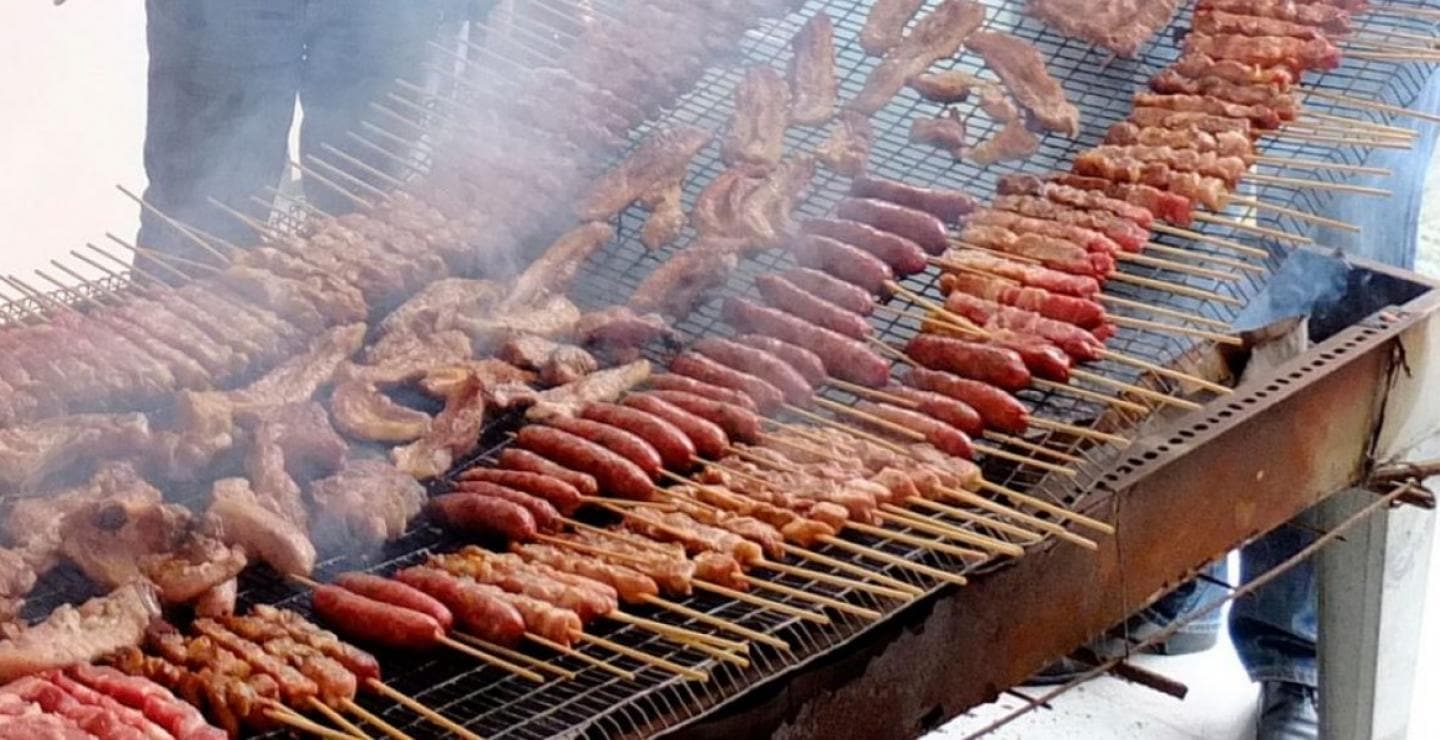 It is part of traditional celebrations for the three-week Carnivale in Greece. The first week is Profoni (prelude), the second week is Kreatini (meat week), the third week is Tirofagou (cheese week). Tsiknopempti is on the Thursday of the week known as Kreatini before the fasting of Sarakosti begins. It is celebrated 11 days before Kathara Deftera, Clean Monday, marking the start of Lent.
On this particular Thursday of each year, outdoor barbecues are set up everywhere and anywhere throughout Greece, from neighborhoods in Athens, to town squares in Thessaloniki, to church courtyards on the islands and in remote villages and you are guaranteed to smell grilled meat anywhere you
Most taverns, restaurants and cafes also serve grilled meat today and also expect to see lots of singing and dancing on the streets as this a day of celebration.
It's all about cuts of pork, lamb, beef, goat or any other meat of your choice and with a huge emphasis on grilling and charcoal and by far, the most common item will be some variation of souvlaki.
Beyond the standard grilling, each region of Greece also has its own customs and traditions which are celebrated on this day every year.
What is certain is today is one of the busiest days for butchers around Greece, and Greek households will be preparing and enjoying their favourite grilled meat dishes, creating a cloud of smoke where it's being cooked.

'A School on the Move' for 2020 and Beyond.
Dear Community members,
It has been a real pleasure to see our students returning to us, or joining us as their new school, since the start of the school year. There is a real sense of energy and vibrancy about the school and I share what is creating this revitalisation which is 2020.

A lot has happened over summer in our efforts to revitalise our school campus. Students looked on with excitement as they witnessed the Harmanis Building repaint; new staging area in the assembly area; the re-turfing of the front oval to the quality of a professional football pitch and the re-surfacing of the Basketball courts.

We have welcomed Ms. Jannine Webb as our new Head of Secondary School, who brings with her a wealth of experience and knowledge from Wesley College, where she was directly instrumental is academic improvements. We have a number of new teachers to the school, who, in a very short space of time, have brought a new energy and passion along with systems and procedures from their respective schools. Alongside our already excellent programs this will only add to the educational experiences of our children. Two new staff who have already made a real impact is Mr Luke Ford, our new Director of Sport and PE and Mr. Trent Bradshaw, our Primary Specialist PE Teacher. Both have made sweeping changes to how PE and Sport have been conducted and our students are thoroughly enjoying this new approach.

St. Andrew's Grammar is already a very successful school academically and our teachers truly are excellent. However, any school which does not have a continual improvement ethos will eventually move backwards. It is with this in mind that we have invested in a 3-year school improvement program called Visible Learning. This is a program devised by world renowned education researcher John Hattie. For more information I have provided the following link to this program and its workings https://visible-learning.org/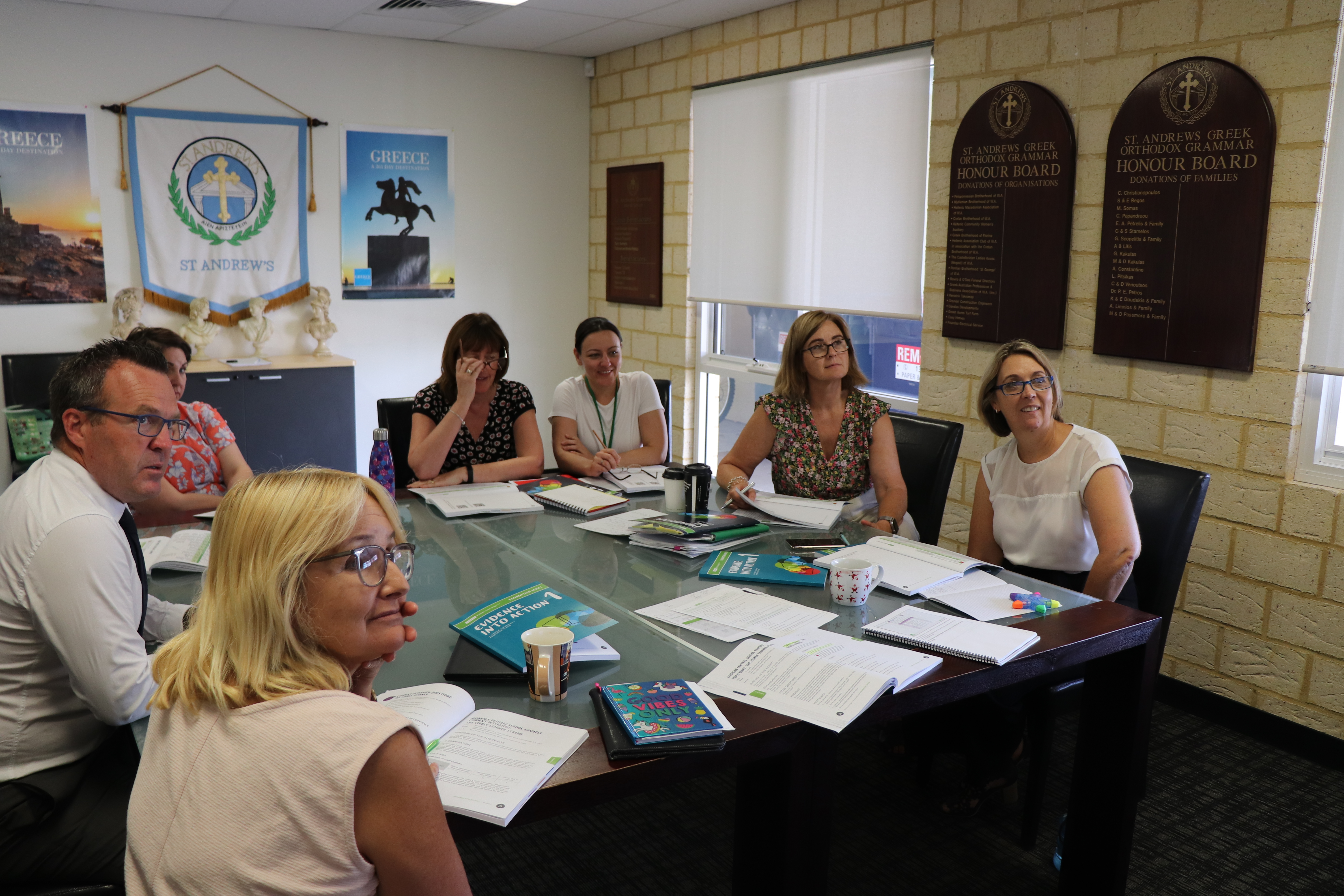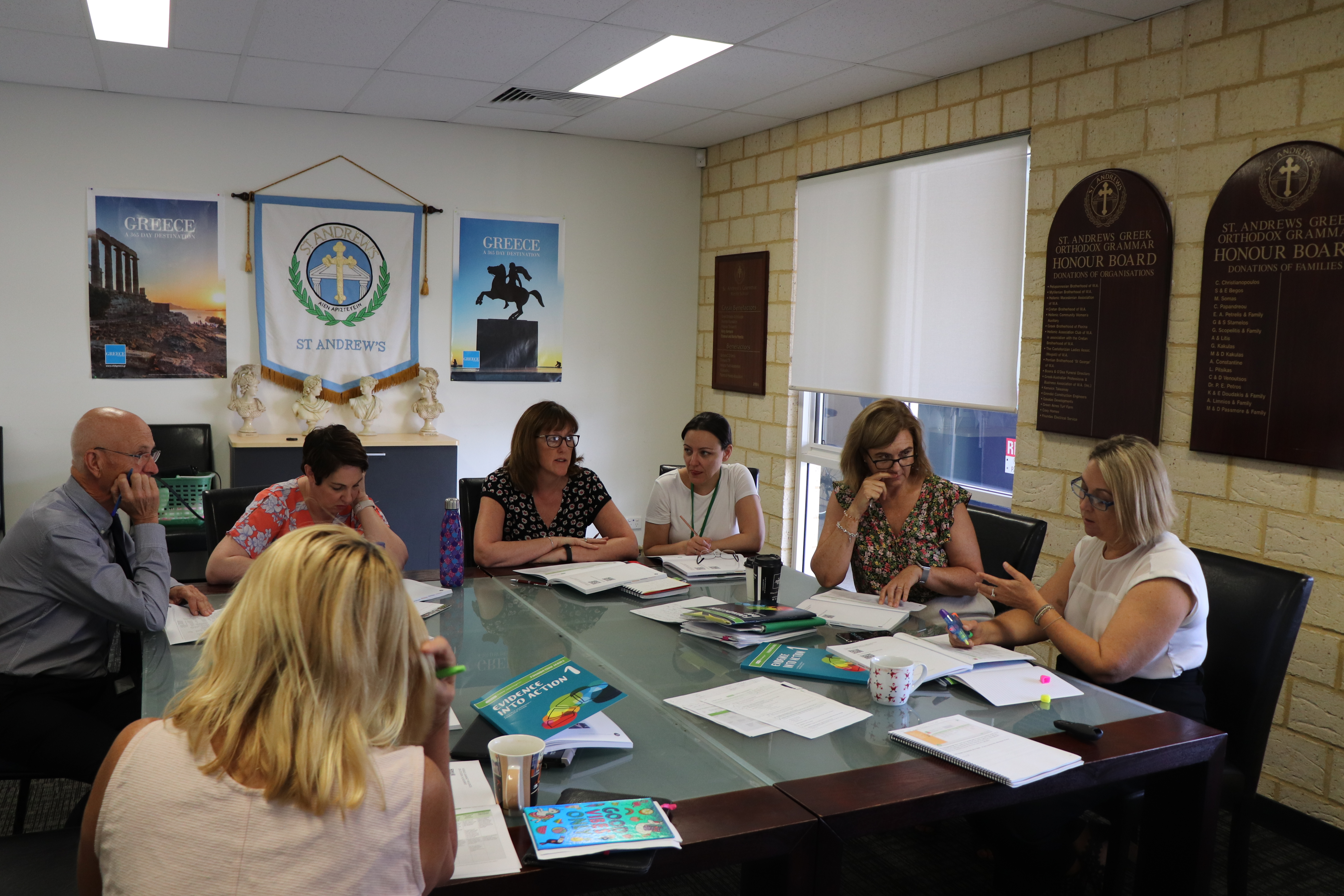 Visible Learning is based on over 68,000 studies and 25 million students. As a collective, our staff have already spent time actively discussing what the dispositions are that students need to be successful learners.
John Hattie defines Visible Learners as students who can:
*articulate what they are learning;
*explain the next steps in their learning;
*set learning goals;
*see errors as opportunities for further learning;
*know what to do when they are stuck and seek feedback.
It might be interesting to know that the effects of the following more than double the learning improvements of students; collective teacher efficacy; enhancing student expectations; student efficacy; effective teacher feedback and teacher clarity.
Essentially this program enables our staff and leadership team to use objective data to inform improvements and through using the expertise of their facilitators measure school and department improvements. We will be reporting on these findings and improvements at key points between now and December 2022. We are very excited on where this program can take the school in the next few years.
The School has worked hard in the latter part of 2019 and during the holidays to refine the 6-year Strategic Plan. The community feedback has been clear that it is great to have a renewed sense of purpose and direction. A hard copy of the Strategic Plan will be provided to every family, staff member and friends of the school early March. It is important that families retain this as it provides the medium-term direction of the school so should be kept for future reference.
Perhaps the biggest difference between 2019 and 2020 is the significant influx of new students and their families to the school. No one could have foreseen the significant influx, with well over 100 students new in 2020. This is three times more than any other year and when this is added to record low in student leavers (60% less leavers) this has created a roll of 451, 70 more than 2019. This graph shows historically how significant this result is: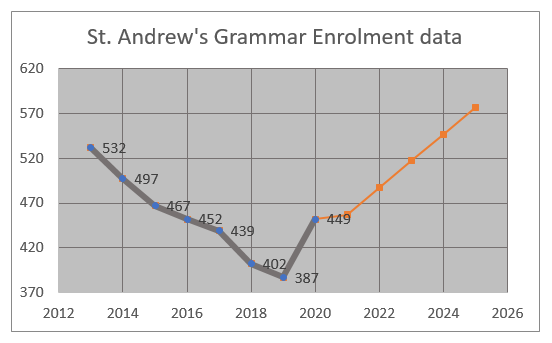 The orange section of the graph are projected increases leading to the very aspirational goal of achieving 600 students by 2026. As parents can see the incredible result of 2020 has placed us very much ahead of this goal - something that would not have been in anyone's wildest dreams 12 months ago.
We look on to 2020 with a renewed sense of excitement, and based on the discussions with many parents, they too share this excitement and positivity for the upcoming year and beyond.
Craig Monaghan Principal
Community > St. Andrew's Grammar

150 people attended the 2020 WA Youth & Young Adults Conference on Saturday 9th February 2020.
The all day conference was held on the grounds of the Holy Monastery of St John of the Mountain and commenced with a Divine Liturgy and a blessing of water service. Followed by a key note addressed by his Eminence Archbishop Makarios, a question and answers session and speeches from a series of guest speakers.
Lunch was served followed by a paraklisi service and another series of speakers addressed the audience. To conclude the event a group-workshop was conducted where participants brainstormed in groups and presented their ideas to His Eminence Archbishop Makarios on how we can open our hearts to those who are outside the church.
It was a tremendous day; A successful turnout and a very spiritual and informative day. Thank you to all of the participants, sponsors and volunteers.


On Sunday 9th February the Centre For Hellenic Studies Parents & Friends Association had a Sausage Sizzle Fundraiser at Bunnings Morley!!! It was a great day for raising money for all the Saturday Greek School children/students.
Έρανος του Συλλόγου γονέων του Κέντρου Ελληνικών Σπουδών!! Ήταν μια υπέροχη ημέρα για την συλλογή οικονομικών πόρων για όφελος των μαθητών του Σαββατιανού Ελληνικού σχολείου.


Join the Kastellorizian Association on Sunday 23rd February 2020 at 6.00pm for their annual Apokries BBQ 'Under the Stars' at the KASTELLORIZIAN HOUSE 160 Anzac Rd, Mt Hawthorn.
Includes BBQ, Salads, Drinks And the famous Kastellorizian Katoumari | ADULTS - $40 CHILDREN 12 to 17yrs - $20 under 12yrs - free