Important Announcement from the Consulate of Greece in Perth - Cancellation of the National Day Reception on 17th March
As a precautionary measure and in the effort to globally contain the expansion of COVID-19, the Greek Ministry of Foreign Affairs has decided to cancel this year's big public events worldwide for the commemoration of the National Day of Greece.
Therefore please be advised that the National Day Reception, scheduled to take place on 17th March at the Perth Town Hall, is cancelled.
We are sorry for the inconvenience and we are looking forward to properly celebrating our National Day next year, which will mark the 200th anniversary from the Greek Revolution that led to the Greek Independence.
Με ιδιαίτερη χαρά καλώ όλους τους Έλληνες και Φιλέλληνες της Δυτικής Αυστραλίας να τιμήσουν με την παρουσία τους τις ακόλουθες εκδηλώσεις για τον εορτασμό της Εθνικής Επετείου της 25ης Μαρτίου 1821
Γεωργία Καρασιώτου
Πρόξενος της Ελλάδας στην Πέρθη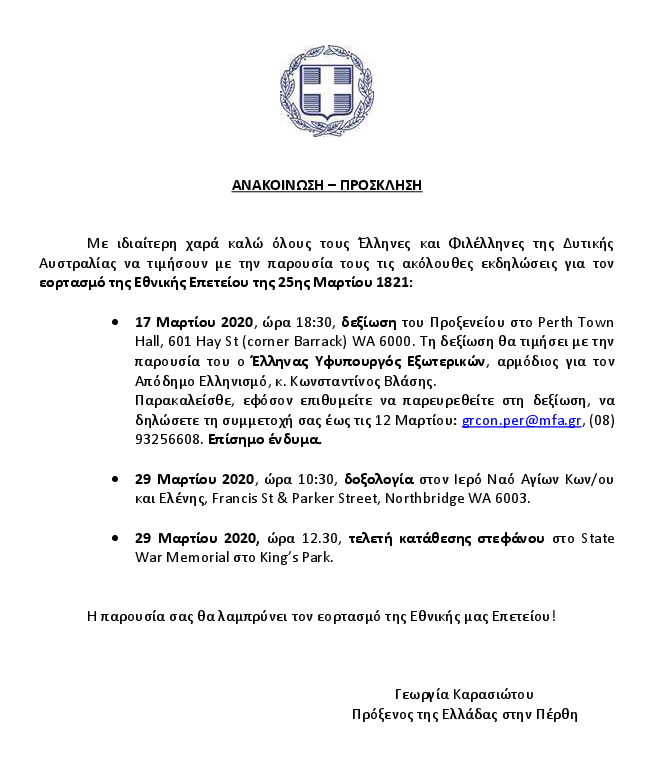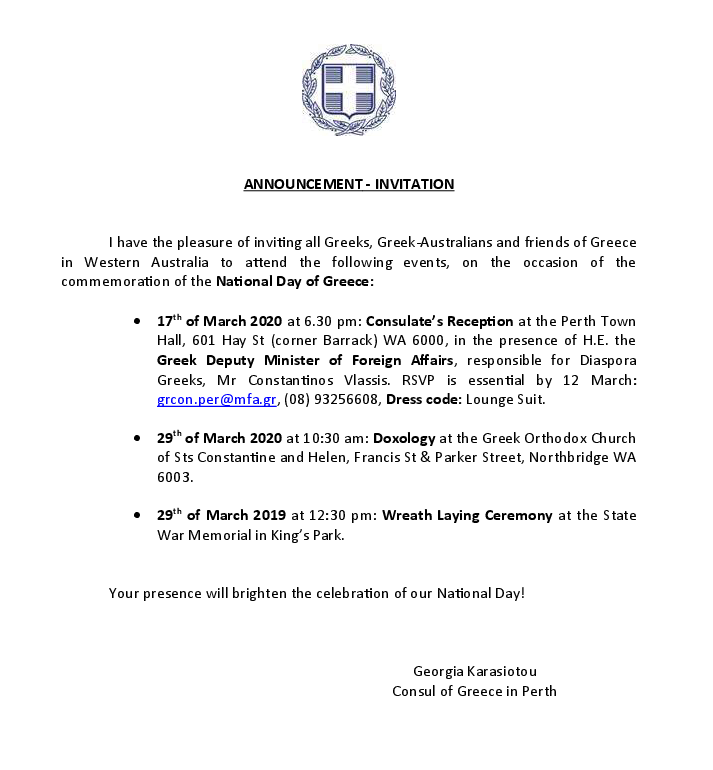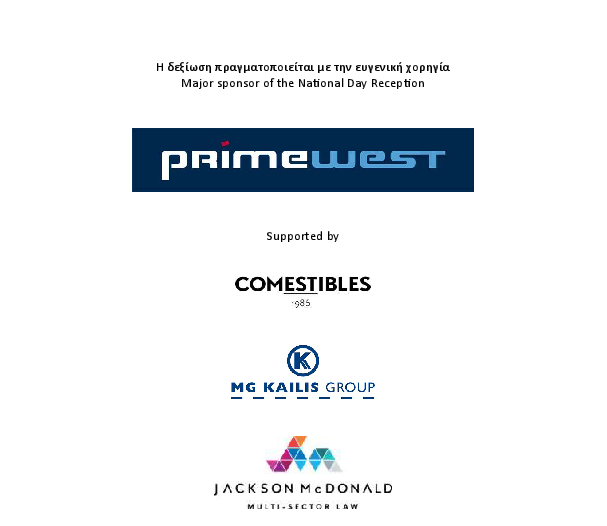 Community > Consulate of Greece in Perth

On Sunday 1st March, the Hellenic Community of WA along with St. Andrew's Grammar held a very successful joint Fire Appeal fundraising event. Under the stars in the school Palassis Courtyard, attendees joined together in support of those affected by the devastating fires.
Guests, newly appointed President of the Hellenic Community Mr Byron Spartalis, Consul for Greece in WA, Mrs Georgia Karasiotou and family, Principal Mr Craig Monaghan and family and Mr Wayne Cronin, gave their support and their presence was much appreciated.
Mr Savvas Papasavvas opened the evening and introduced the Consul of Greece Mrs Georgia Karasiotou and Principal Mr Craig Monaghan. Followed by Mr Monaghan welcoming everyone with a minute's silence in recognition of those who lost loved ones, homes and livelihoods.

With more than 300 guests, the atmosphere was amazing. Everyone enjoyed themselves, the food once again was sensational. Families, close friends, and school staff, all showed their support.
A special thank you to DJs Mihali K & Socrates for the evening entertainment, a big thank you to the students of St. Andrew's Grammar Dance Group and the Hellenic Community Dance Group for their amazing dances performances and also to the very talented Anna and Jovana for their beautiful singing performances.
A special thank you also goes to Stavros Vitsas, Christos Athanasiou and Evan Kakulas for their generous donations and to the volunteers Vangelis Karambekios, George Kalantzis, Alexi Falas and Michalis Christou for their amazing efforts in preparing and cooking the souvla. Also a big thank you to all the Hellenic Community volunteers who are always willing to help at such events. They work tirelessly to make all Hellenic Community events a huge success.
Over $5,000 was raised from ticket and raffle proceeds which will go to families affected by these devastating fires.
A big thank you to Mr Savvas Papasavvas, the Hellenic Community Committee, and St. Andrew's Grammar for this very important initiative.
Community > Event

With an unwavering demand for healthy, seasonal and all-natural ingredients, Greece continues to cement itself as a small-batch food-lovers' paradise. Over the past few years The Food Philosopher has combed Greece's gorgeous countryside to find the very best boutique producers in the land, developing a deep bond with all producers by immersing themselves in all stages of harvest and production.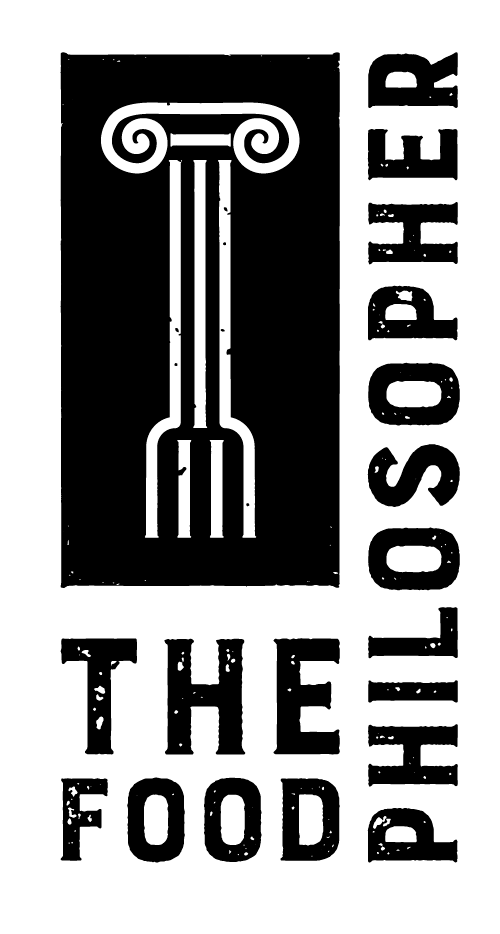 Meet The Wonderful Design Team
The Food Philosopher is all about bringing the best of Greece's ancient culinary culture to everyday Aussie consumers. Part of that is capturing the very essence of what makes Greek food so unique by creating product labels that are both engaging, authentic and meaningful to our customers. To deliver on this vision is our wonderful 'The Food Philosopher Design Team', comprising of our acclaimed graphic designer, George Vavakis and renowned local graphic illustrator Michael Nicholas. George is the creative genius that inspired the creation of our unique logo and graphic designs all of our fantastic The Food Philosopher labels. Mike, from Run Mouse Run, is the oh-so-talented local graphic illustrator who artfully brought our 5 Grecian maidens to life as part of our exciting new series of gourmet balsamic vinegar. Both boys are proud Aussies but are equally proud of their Hellenic roots and draw upon this heritage as inspiration to create product labels that connect with the souls of our customers and not just whet their appetites. So, the next time you purchase one of our wonderful products, be sure to give a thought to the wonderful, creative hands and minds that have brought our little vision to reality. So, a BIG THANKS to George and Mike! Xilia euxaristo!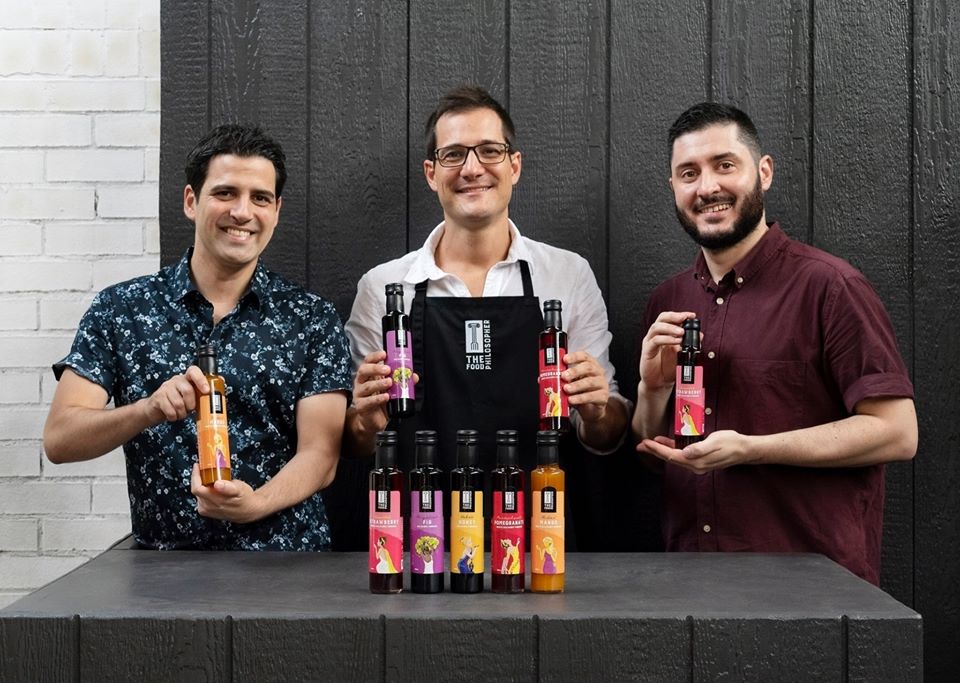 Photo: Michael Nicholas, John Stamatiou The Food Philosopher, George Vavakis
NEW PRODUCT LAUNCH!
Click here to see The Food Philospher's new products Gourmet Balsamic Vinegars ~ Pomegranate, Honey, Mango, Strawberry and Fig.
Please see stockists round Perth.
Community > The Food Philosopher

The Byzantine Music School of Australia commenced its first operation at St John's College Preston, Victoria, with the service of Agiasmo performed by the Vicar of the Greek Orthodox Archdiocese of Australia District of Northcote Victoria, Very Reverend Evmenios Vasilopoulos. Thirty-five enroled students attended the first open day at St John's College. A second open day was held at Oakleigh Grammar, Oakleigh Victoria.
The BMSA is an initiative of the His Eminence, Archbishop of Australia Makarios. On the 25th October 2019, His Eminence Archbishop Makarios officially announced the creation of the Byzantine Music School of Australia with a vision in creating a new opportunity to teach and preserve the traditions of Orthodox Ecclesiastical Music as part of a worship of Jesus Christ our God.
The BMSA would like to thank the boards and the principals for both colleges for their permission to the BMSA to use their facilities.
If you would like to know more about learning Byzantine Ecclesiastical Music, please click here.
The purpose of the first ever Byzantine Music School in Australia is to teach and preserve the beauty and traditions of Greek Orthodox Church Music - also known as Byzantine music or chanting. The initiative belongs to Honorable Greek Orthodox Archbishop of Australia, Makarios, and is headed by Vaios Anastassopoulos.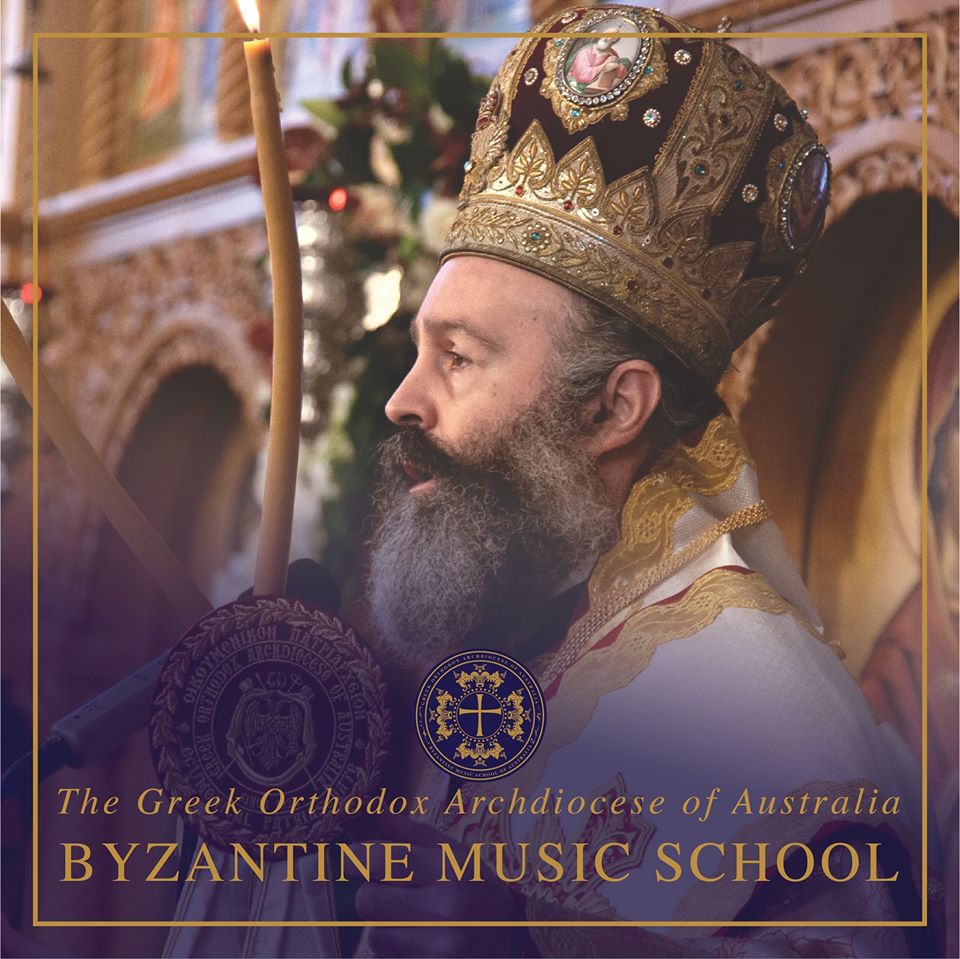 The faithful of all the Parishes and the Monastery of St John of the Mountain are invited to a combined Vesper Service for Forgiveness to be held at the Church of Evangelismos on Sunday March 1st 2020 commencing at 6.00pm.
All Priests will be in attendance at this special service.
The Vesper service for Forgiveness is held each year on the eve of the commencement of Holy and Great Lent. At the end of the service the faithful seek forgiveness from one another as an act of repentance in preparation for the Lenten period.