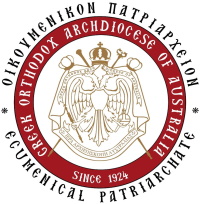 Recently, in the far southwest corner of Western Australia (WA), in a small town called Prevelly, which is nestled in the Margaret River region of WA, something exciting has begun to unfold.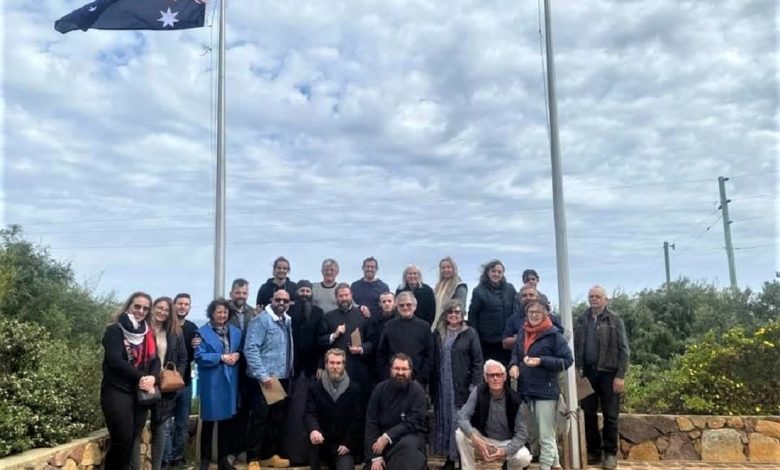 Father John Sullivan, who was ordained into the Priesthood by His Grace Bishop Elpidios of Kyanea with the blessing of His Eminence Archbishop Markarios of Australia in 2020, was given a very important mission; to conduct monthly Divine Liturgies at the Holy Chapel of St John the Theologian in Prevelly which is located 280 km south of Perth.
The historic chapel of St John the Theologian, which has been used for weddings, christenings, and a yearly feast day Divine Liturgy, has stood guard at the town of Prevelly for over 40 years. The chapel was built and generously donated to the Greek Orthodox Archdiocese of Australia by Mr Geoff Edwards, an Aussie digger, who served at the Battle of Crete during the 2nd World War. Geoff's story of the iconic Chapel is famous and a wonderful example to us all, and one is encouraged to familiarise themselves with this amazing story in the book written by Mr Edwards 'The Road to Prevelly'.
As Fr John began celebrating regular English Divine Liturgies at the chapel, soon after enquirers and searchers began attending. These new parishioners have travelled from far and wide and have been drawn to the Chapel of St John because of the warm and inviting atmosphere and the feeling of genuine love. Comments such as "It's like a family" and "with the services now being conducted in English I found myself moving from an observer to a participant" is the type of feedback that Fr John is receiving from those attending the monthly services.
Orthodoxy is for everybody and just like the earliest Christians from the Apostolic times, the newly developing Orthodox community of St John in Prevelly is sharing the Good News in the local language of the people .
Fr John says, "We are humble, ordinary believers who are thirsty for the Truth of the Gospel which is found in the One, Holy, Catholic and Apostolic Church. The faithful that participate in the services are from a true cross section of society which celebrates what it means to be an Australian. These include grocers, farmers, lawyers, professors, businessmen, Protestants, and everyday people who have discovered the relatively unknown and seemingly mysterious Orthodox Church".
Fr John further states that, "we have people attending who have discovered the loving nature of Orthodox Christians. Many are seeing it is truly a "miracle unfolding" and are excited to see that the Chapel has come to life within the last twelve or so months. Yes, things have now changed at Prevelly where our home is St John the Theologian's Chapel. In this home we are a growing family where we are all brothers and sisters, and where there is room for all. Thanks to God, amazing things continue to happen today, all we need to do is open our hearts and treat each other with love and respect".
Fr John encourages anyone who would like to know more about the timeless faith of Orthodoxy to attend the services in Prevelly that take place on the first Saturday of each month. All are welcome to come and see for themselves the transformation of the people as we commit to making Jesus Christ our Lord and Saviour in our daily lives. Orthodoxy is firmly rooted in the teachings of Holy Scripture and the unchanging Christian witness of the early Church.
For more information, please go to our Facebook page – Chapel of St John Theologian, Prevelly.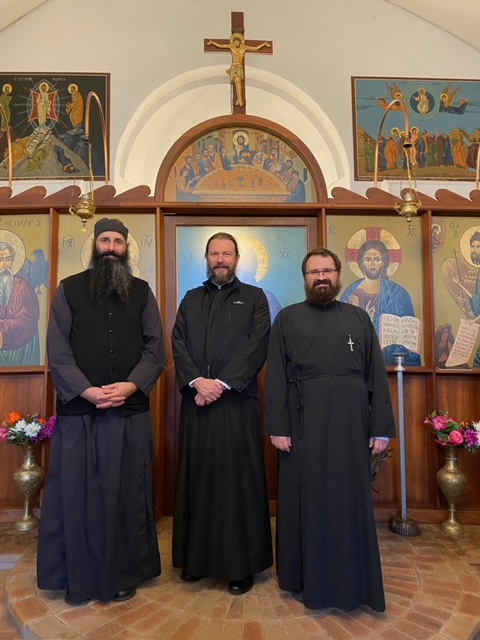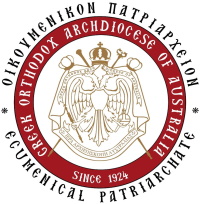 Τη Δευτέρα, 27 Σεπτεμβρίου, στη μικρή πόλη Prevelly της Δυτικής Αυστραλίας εορτάστηκε η Μετάσταση του Αγίου Ιωάννου του Θεολόγου και Ευαγγελιστού.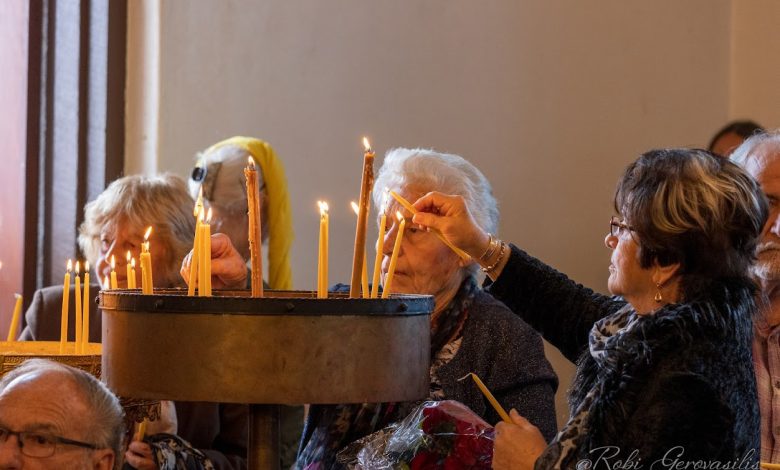 Με προορισμό τους το φερώνυμο εκκλησάκι, πάνω από εκατό πιστοί ταξίδεψαν από την Πέρθη στο Prevelly, με αυτοκίνητα και με λεωφορείο. Εκεί έσμιξαν με τους ντόπιους, από το Prevelly και την κοντινή πόλη Margaret River, οι οποίοι συμμετείχαν στον εορτασμό. Εξάλλου, το εκκλησάκι του Αγίου Ιωάννου του Θεολόγου είναι ένα εμβληματικό ορόσημο για τους ντόπιους, οι οποίοι κάθε χρόνο υποδέχονται με μεγάλη χαρά τους πιστούς που καταφθάνουν από την Πέρθη.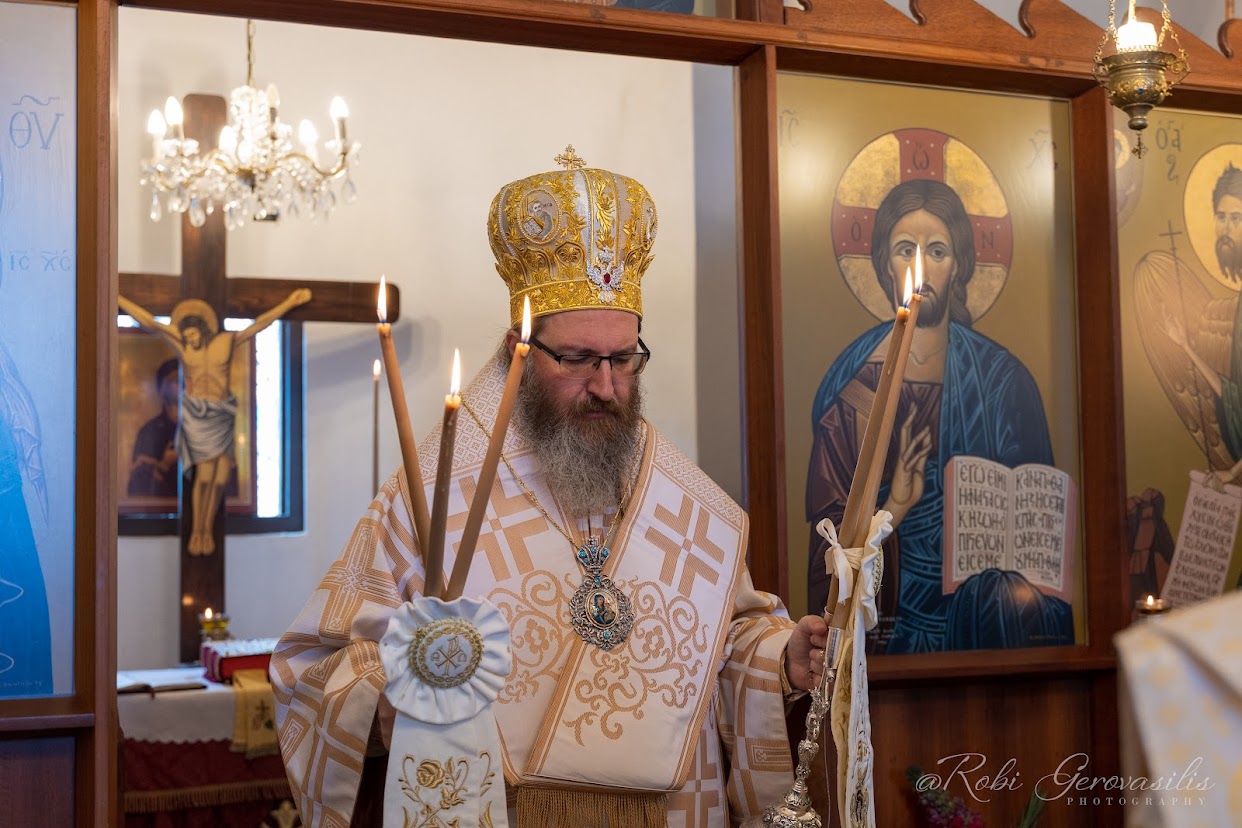 Σημειώνεται ότι το Prevelly βρίσκεται στη νοτιοδυτική ακτή της Δυτικής Αυστραλίας, στις εκβολές του ποταμού Margaret. Είχε ιδρυθεί από τον Geoff Edwards στις αρχές της δεκαετίας του 1960 και ονομάστηκε Prevelly από τη Μονή Πρέβελη που βρίσκεται στην Κρήτη.
Ο Edwards ήταν ένας από τους Αυστραλούς στρατιώτες που είχαν πολεμήσει στη Μάχη της Κρήτης το 1941 και είχαν βρει καταφύγιο στο μοναστήρι του Αγίου Ιωάννη, πριν από την εκκένωση του νησιού από τις συμμαχικές δυνάμεις. Για να ευχαριστήσει τους ανθρώπους της Κρήτης και του μοναστηριού, ο Edwards και πολλοί άλλοι Αυστραλοί στρατιώτες που πολέμησαν στη μεγαλόνησο, ανήγειραν παρεκκλήσι αφιερωμένο στον Άγιο Ιωάννη τον Θεολόγο με θέα στον Ινδικό Ωκεανό.
Αξίζει να αναφερθεί ότι η περιοχή του ποταμού Margaret είναι πολύ δημοφιλής στους τουρίστες λόγω των εμβληματικών της τοποθεσιών για σερφ, καθώς και των παγκοσμίου φήμης οινοποιείων που βρίσκονται εκεί. Περίπου 600.000 τουρίστες ετησίως επισκέπτονται την περιοχή.
Κατά τον εορτασμό της Μεταστάσεως του Αγίου Ιωάννου του Θεολόγου, ο Θεοφιλέστατος Επίσκοπος Κυανέων κ. Ελπίδιος χοροστάτησε κατά τον Όρθρο και προεξήρχε της Πανηγυρικής Θείας Λειτουργίας. Στο κήρυγμά του, ο Θεοφιλέστατος μίλησε στο εκκλησίασμα για τη μεγάλη χριστιανική αγάπη, στην οποία αναφέρεται με έμφαση ο Άγιος Ιωάννης τόσο στο Ευαγγέλιό του, όσο και στις επιστολές τους προς τους χριστιανούς.
Συγκεκριμένα, ο Επίσκοπος Κυανέων παρέθεσε και ανέλυσε ένα απόσπασμα από την Α' Καθολική Επιστολή του Θεολόγου, όπου τονίζει πως αυτό που ισχυρίζεται ότι αγαπά τον Θεό και μισεί τον αδελφό του, είναι ψεύτης («ἐάν τις εἴπῃ ὅτι ἀγαπῶ τὸν Θεόν, καὶ τὸν ἀδελφὸν αὐτοῦ μισῇ, ψεύστης ἐστίν· ὁ γὰρ μὴ ἀγαπῶν τὸν ἀδελφὸν ὃν ἐώρακε, τὸν Θεόν ὃν οὐχ ἑώρακε πῶς δύναται ἀγαπᾶν;» [Ιωα. Α' 4,20]) .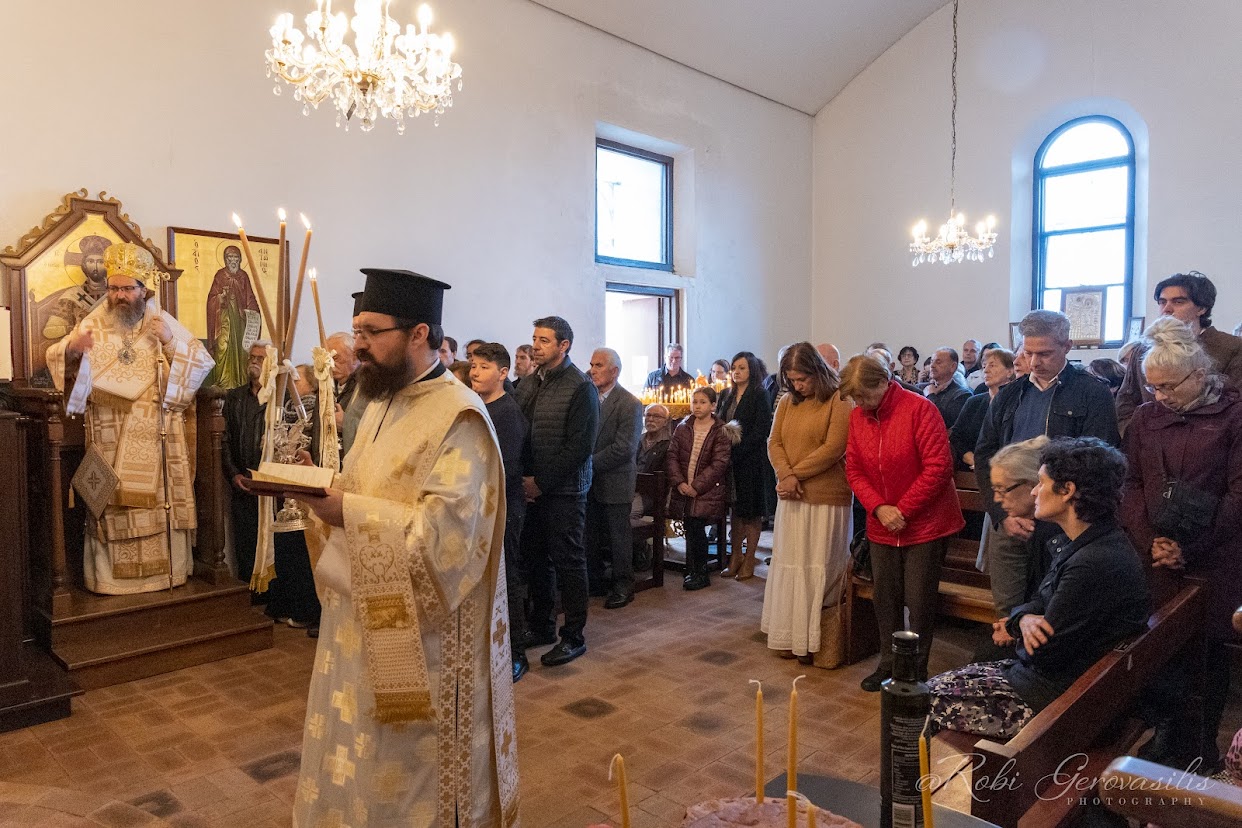 Επιπλέον, ο Θεοφιλέστατος κ. Ελπίδιος ευχαρίστησε όσους ταξίδεψαν από την Πέρθη για να συμμετάσχουν στην εορτή, καθώς επίσης τους ντόπιους κατοίκους, κάνοντας ιδιαίτερη μνεία στα μέλη των οικογενειών των παλιών Αυστραλών στρατιωτικών που ήταν επίσης παρόντες.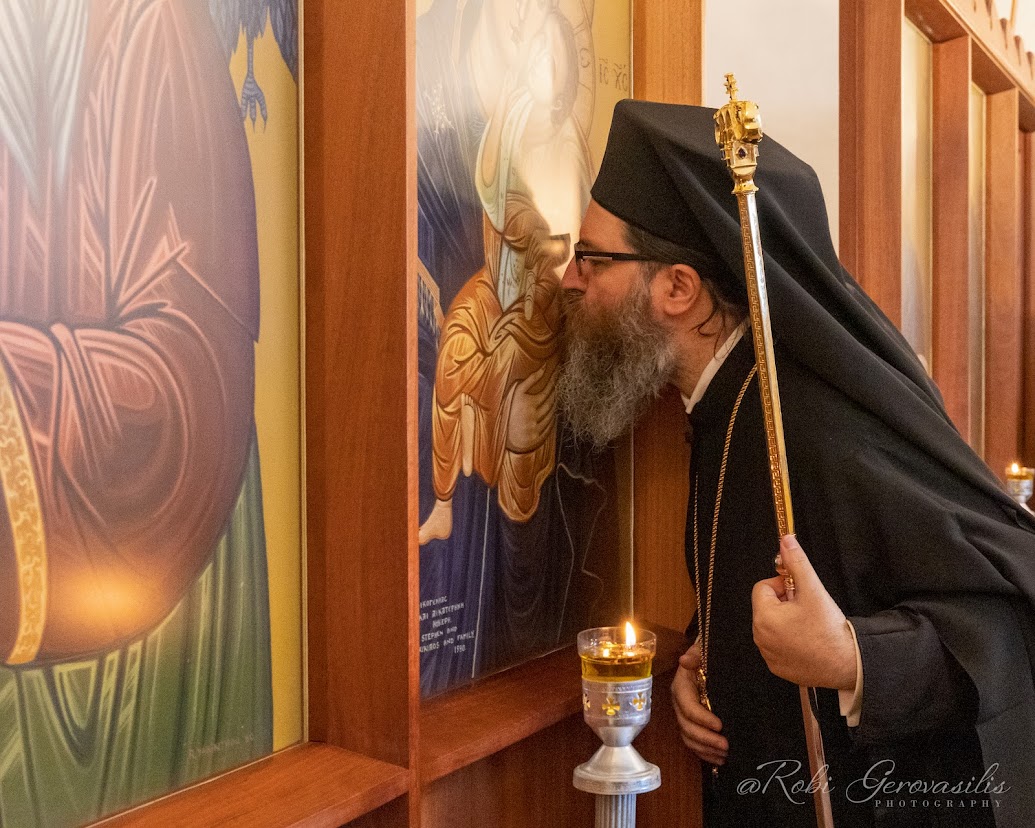 Τέλος, ο Επίσκοπος Κυανέων μετέφερε σε όλους τους πιστούς τις ευλογίες, την αγάπη και τους θερμούς χαιρετισμούς του Σεβασμιωτάτου Αρχιεπισκόπου Αυστραλίας κ.κ. Μακαρίου.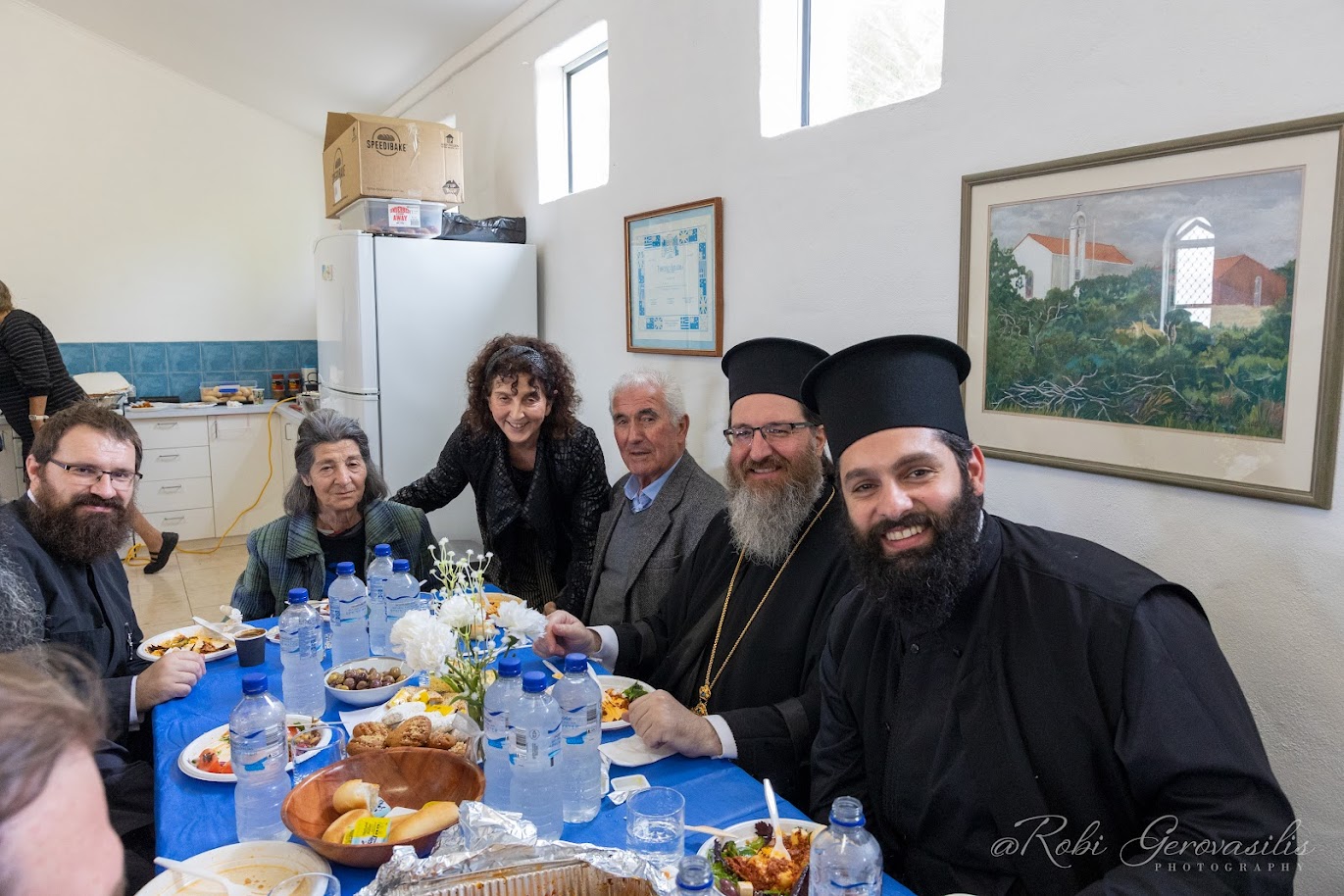 Μετά τη Θεία Λειτουργία, παρατέθηκε ένα υπέροχο γεύμα στην αίθουσα που βρίσκεται δίπλα στην εκκλησία.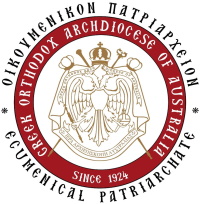 His Grace Bishop Elpidios of Kyanea is delivering Marriage Seminar on Tuesday 5th October at 6.30pm and All are invited to attend this seminar. Please see flyer for more details. Bookings are not essential.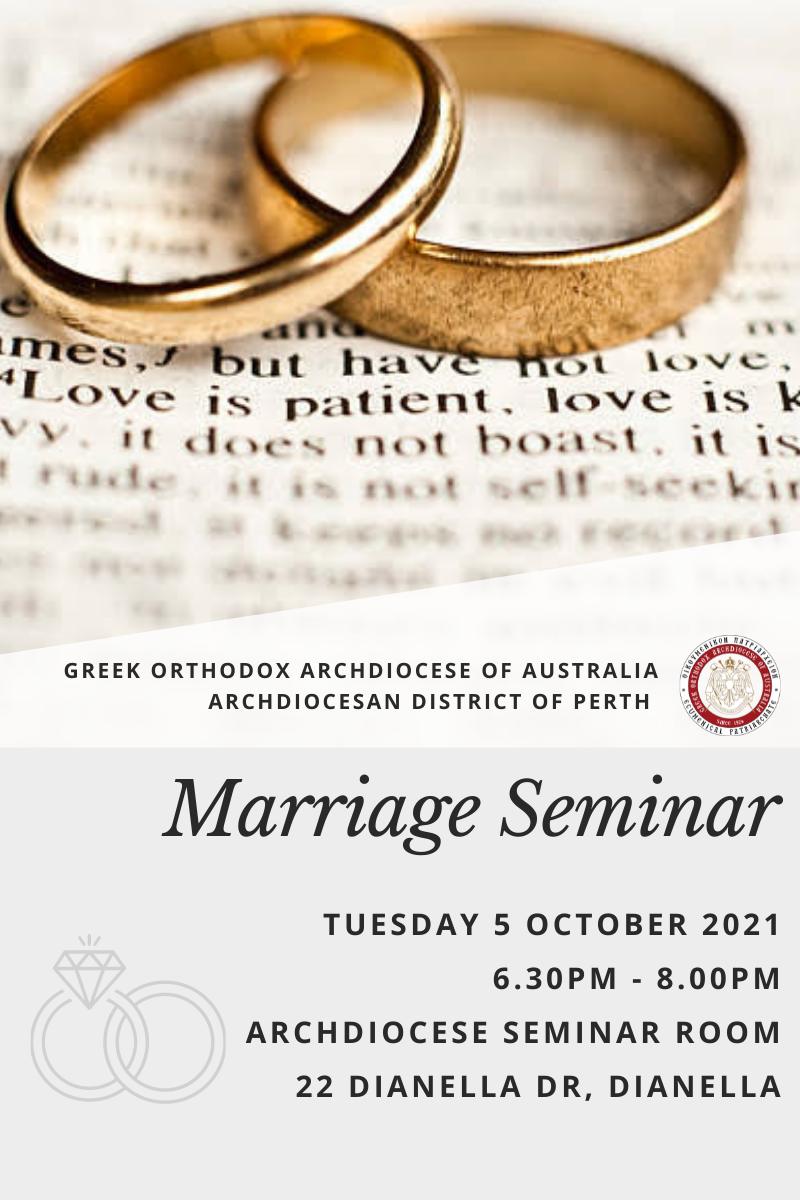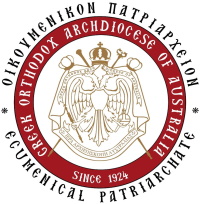 Dear Faithful, His Grace Bishop Elpidios of Kyaneon with the assistance of all clergy, will be celebrating the liturgy of Saint James on Saturday 23rd October 8.00am - 11.00am at St Nektarios Church, 22 Dianella Drive, Dianella. All are welcome to attend!! This Service will be in English and in Greek.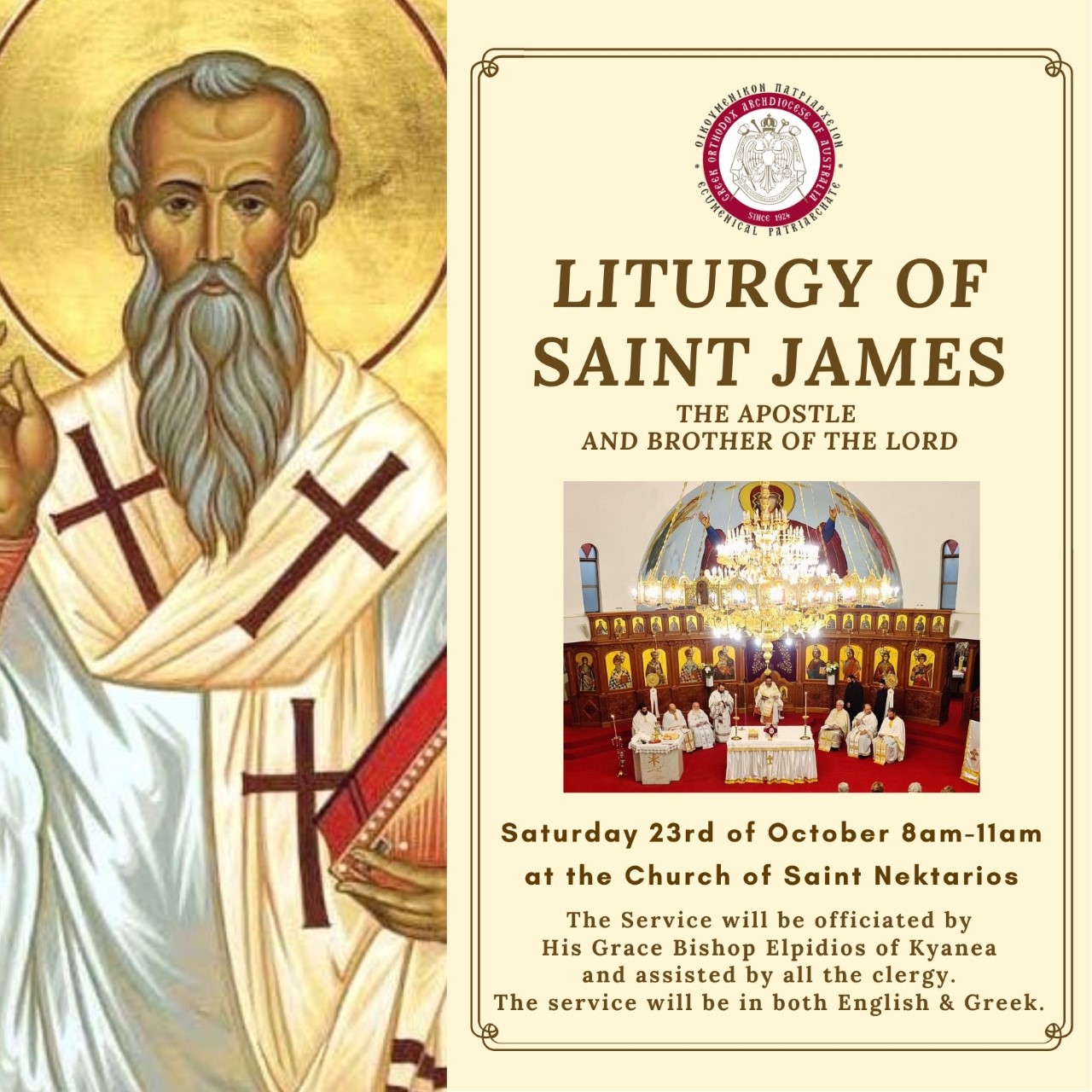 Greek authorities announced on 27th September 2021 that hundreds of homes and businesses have been damaged following the powerful 5.8 earthquake that hit central Crete.
Engineer inspections of 1,199 structures have established that three-quarters of them are temporarily uninhabitable.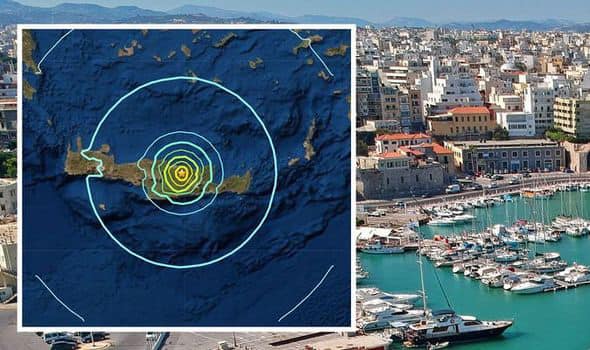 The structures include homes, businesses, churches, public buildings and schools in the municipalities of Minoa Pediada, Archanes-Asterousia, Iraklio, Malevizi and Oropedio Lasithiou.
Of the 995 homes inspected, 772 have been declared uninhabitable. Of the 45 workplaces inspected, 36 are unstable, as are 46 of the 85 places of worship and public buildings surveyed.
Engineers also deemed 71 of the 74 warehouses and stables they visited to be unsafe. They also conducted checks on 18 schools, of which six have been declared unfit for use.
Hundreds of people in affected region of Crete spent the last nights in tents and parks or slept in their cars in the wake of the earthquake, which struck the village of Arkalochori, killing one person, injuring at least 20. Greece's civil protection ministry said 2,500 tents were made available.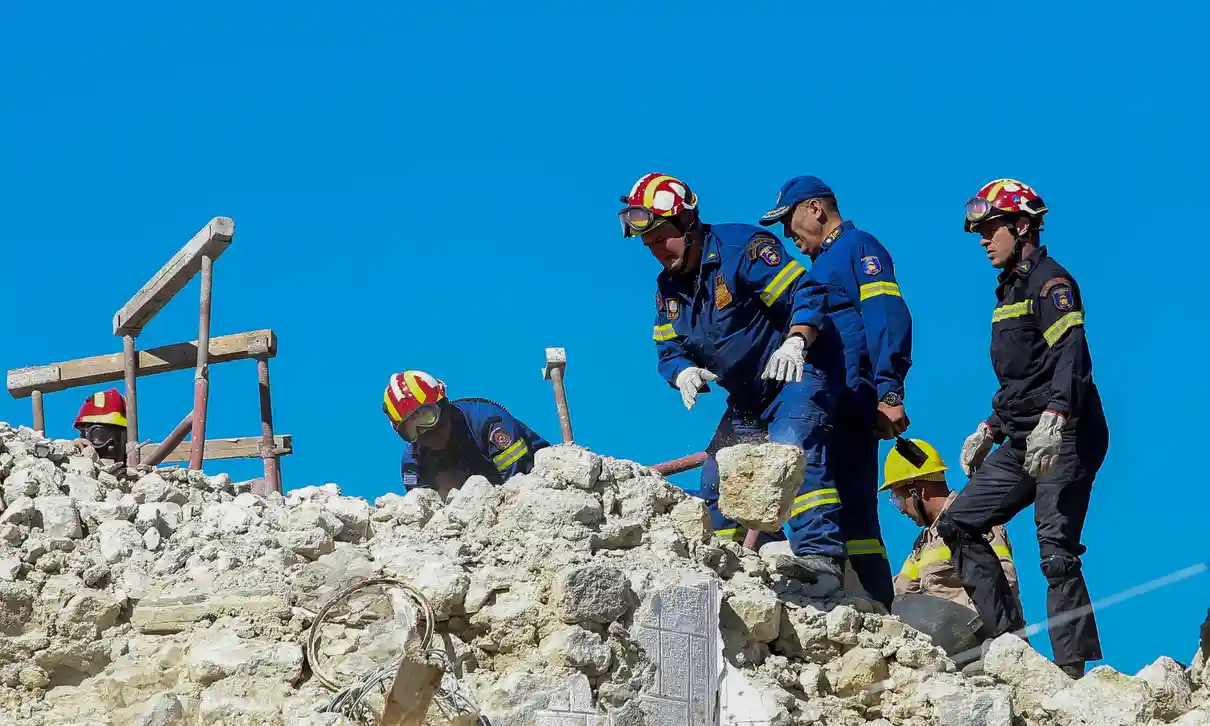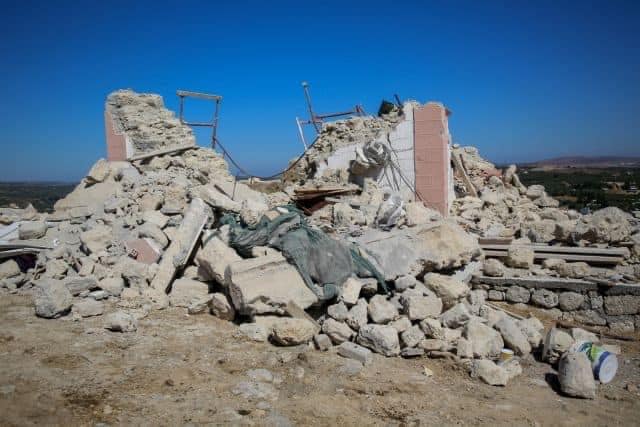 Relief measures for earthquake-stricken areas in Crete
Crete residents are still on alert as dozens of aftershocks continue. Greek authorities announced relief measures on Tuesday to support areas and people affected by an earthquake.
Measures include up to 14,000 euros in subsidies for the restoration of homes and buildings, compensation of up to 6,000 euros for household appliances, rent subsidies, financial support to cover basic household needs as well as up to 8,000 euros to cover business equipment, exemption from ENFIA property tax, and the right to defer other tax payments and social insurance contributions.
The aid, which will also be directed to local governments, will be available via the government's arogi.gov.gr platform.
"We were able with all the co-responsible ministers to assess the situation here in Arkalohori and to make decisions on immediate support measures for the two municipalities that have been affected," said Prime Minister Kyriakos Mitsotakis.
Greek seismologists alarmed
Greek seismologists stated that they had been were expecting an earthquake on Crete, but were stunned by its magnitude.
The Seismic Danger Estimate committee had been expecting seismic activity on the island since July, but their estimate was that it would not rise beyond 5.4 on the Richter scale, the scientists noted.
Earthquake Planning and Protection Organization (OASP) president Efthimios Lekkas said that this particular quake was "unexpected, and came out of nowhere." Commenting on the size of the seismic activity, Lekkas said that "it was almost irrational — the event was much larger in scale than we anticipated."