On Wednesday 4th March 2020 His Grace Bishop Elpidios of Kyaneon made his first official visit to the Hellenic Aged Care. His Grace was accompanied by Father Terry Gerovasilis, together they greeted all the residents and also had the opportunity to meet many staff members and volunteers. His Grace's presence was received with so much appreciation and gratitude from residents. A huge thanks to Effie for organising this visit.

Community > Hellenic Community Aged Care

If you've missed the news, St. Andrew's Grammar has become the first school in Perth to be selected as a Perth Glory Academy School.
St. Andrew's Grammar Principal, Mr Craig Monaghan joined Brad Fitzgerald on 6PR to talk more about this exciting new development.
Click here to listen to the full interview.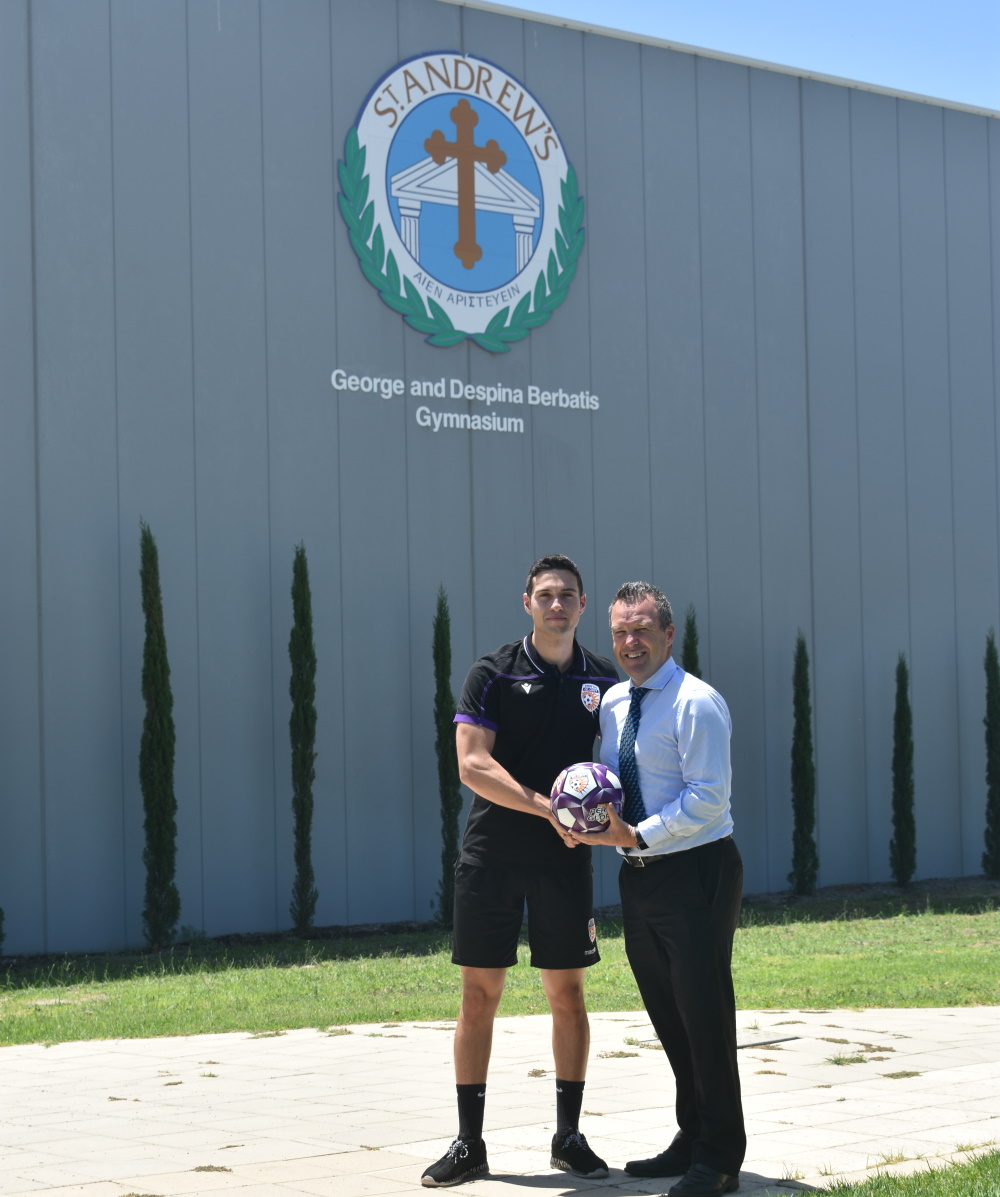 The Academy is now underway as St. Andrew's Grammar students from year 2 to year 12 have immersed themselves into skills training, technical and tactical drills under the coaching expertise of Mr Jesse Hesford. Jesse is an accredited Perth Glory youth coach who is intrinsically driven and inspired to improve our junior footballers' ability on the field. This partnership includes a Player Development Model and an Age-Specific Curriculum which enables a unique opportunity for highly-motivated students to develop their football talent and to turn their potential into brilliance.

The students who have been selected into the academy are all so excited with this new opportunity and so determined to strive for excellence.
"Our academy students will also have the honour and privilege of wearing the Perth Glory strip with a St. Andrew's Grammar emblem when representing the school in not only the various soccer competitions that we currently compete in, but also new soccer competitions which we will be given access to through this program." "This also means that there will be a large number of new students joining us over the coming years whom will gain the same privileges as that of our academy students today. Mr Craig Monaghan.
St. Andrew's Grammar > Perth Glory Academy

Καθαρά Δευτέρα
Kite Flying
Οι μαθητές του Κέντρου Ελληνικών Σπουδών διασκέδασαν το Σάββατο 7 Μαρτίου, γιορτάζοντας την Καθαρά Δευτέρα και πετώντας τους χαρταετούς τους ψηλά, στην αυλή του σχολείου. Ήταν μια τέλεια μέρα για πέταγμα χαρταετού, αφού ο άνεμος ήταν ιδανικός και ήταν εξαιρετικό που είδαμε όλους όσοι συμμετείχαν, μεγάλους και μικρούς, να διασκεδάζουν. Ο Σύλλογος Γονέων Σαββατιανου Σχολείου οργάνωσε ένα Νηστίσιμο μεσημεριανό για την Σαρακοστή για να περάσουν όμορφα οι γονείς και τα αδέρφια των μαθητών του σχολείου. Η μέρα ήταν πολύ επιτυχημένη και διασκεδαστική.

On Saturday 7th March the students of the Centre For Hellenic Studies had a fun day out celebrating Καθαρά Δευτέρα, flying their kites high in the sky on the school oval. It was a perfect day for kite flying, the winds were just right, and it was great to see everyone young and old getting involved and having fun. The P&F Association 'Σύλλογος Γονέων Σαββατιανού Σχολείου' hosted a Nistisimo Lunch for Lent for all students, parents and siblings to enjoy. The day was a huge success and a lot of fun.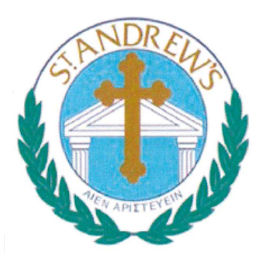 2019 has been a turning point for St. Andrew's Grammar. Many community members have shared with us that they have been increasingly worried as they have seen our school population consistently drop since 2013.
The drop in the student roll, in past years, has not only had a significant effect on the school's reputation but also had a significant effect on the school's finances. 2019 has been about re-establishing both its reputation and finances. This graph below shows how effective our efforts have been – as they say a picture tells a 1000 words!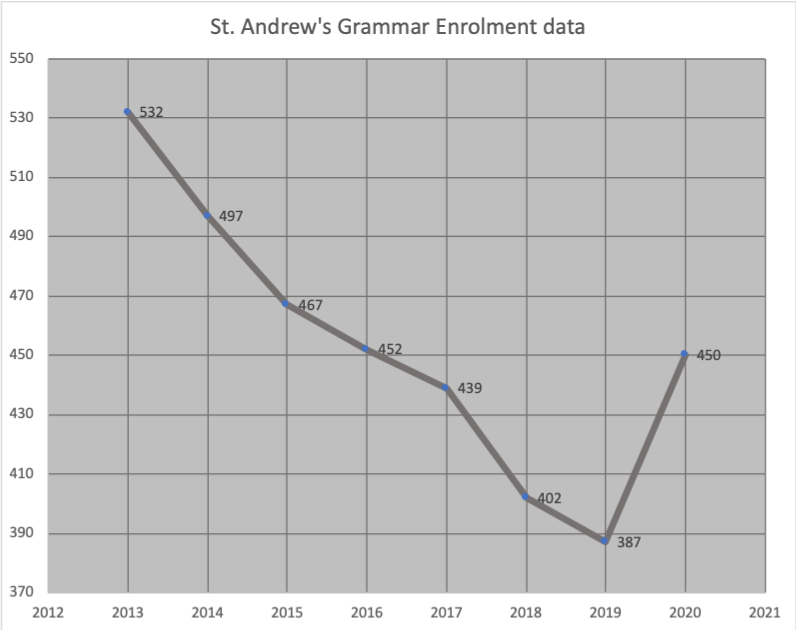 This year we have attracted over 100 new families (which is three times more than our best year) and most importantly we have addressed the loss of our current families to competing schools. Student leavers this year are a third of our best ever year since 2013 and only 3 students have left the school for competing schools.
This has not happened by accident and has been the result of significant work and dialogue with our parent body as well as the immediate improvement in student programs. Our parents are reporting that they are very much enjoying the changes and that the school feels re-energised!
Proposed Mission and Values
After the recent Hellenic Community Planning day, I was asked to rework the mission and values to align them with the discussion. After consultation with many internal stakeholders we have adjusted our mission and values of the school. These align with the Hellenic Communities goals for the school.
Mission: As an inclusive multicultural community, with traditional Hellenic ideals, we strive for excellence in our academic, sporting and cultural pursuits
Values: Through our teaching programs our students will:
reach their own personal level of excellence
exhibit and experience independence
be committed
show responsibility
have an understanding and respect for all cultures
Strategic Plan
A comprehensive Strategic Plan has been developed to take St. Andrew's Grammar through the remaining five years of a six year plan (2019-2025). Community feedback has been collected and changes have been made as a result. We want this to be a community owned plan and one that will build St. Andrew's Grammar to be a school of excellence in all realms. We will share the sections of this plan with you as well as the significant improvements made in 2019 over the upcoming weeks.
I would very much like to hear any community members' thoughts regarding the above mentioned, please do not hesitate to contact me at This email address is being protected from spambots. You need JavaScript enabled to view it..
Craig Monaghan
Principal

Open Days are a great way to get an idea of whether a school will be a good fit for your child. Take advantage of this open day and discover how great St. Andrew's Grammar is and learn more about the unique Greek Culture and Spirit of the school and the vast curricular and co-curricular opportunities that is on offer. Tuesday 5th May at 9.00am book now at This email address is being protected from spambots. You need JavaScript enabled to view it.