It is important to understand that at present there is no directive for our school to close and it has been deemed safe to attend by the Departments of Health and Education. The school has also recently put measures in place which go above and beyond what is expected and required from both Departments.
Following on from Monday's school correspondence, I provide an update on information regarding COVID 19 and the school's proactive strategies to minimize the risks to our students. This letter contains important information and should be read carefully by all parents.
Recently the Government shared a number of measures to limit large gatherings of 100 or more; we have decided to be much more conservative and limit any gatherings over 60. We do this as the safety of our community is our first priority. It is with this in mind that we have implemented strategies which go beyond what is expected of schools.
We continue to revise all aspects of school life whilst attempting to keep the education we provide as uninterrupted as possible.
The following preventative measures were put into place earlier this week:
Soap education: teaching; posters and practices. We have focused on aspects such as no shaking of hands or hugging; not sharing water bottles nor food; washing hands thoroughly (for at least 20-30 secs) regularly; avoidance of touching ones face; when coughing to do so into a tissues or bend of elbow and ensuring all used tissues must go directly to a bin;
We have met with our cleaning company and have ensured extra man hours which will provide additional wiping of all key touch points (light switches and door handles) and focus on soap replenishment;
We have attempted to turn off water taps at school – this will require filled water bottles to be brought in from home;
We have added signage at Reception reminding visitors of responsibilities such as no handshakes or hugging (when greeting) and not entering the school with any flu type symptoms;
We have rearranged Secondary to have Homerooms where teachers will move between classes rather than students;
We have created segregated lunchtimes – Lower and Upper Primary and Lower and Upper Secondary location splits, and;
We have set up single file desks where possible.
There have been a number of events which have either been cancelled or postponed as they required students to be in larger groups. These cancellations are as follows:
All class and school assemblies (on hold until further notice);
Greek Independence assembly and associated church visit (cancelled);
ANZAC celebrations (cancelled);
Year 8 & 9 Camp – which was to be next week and will now be postponed until late-October;
IPSHA and ACC Sporting Competitions (on hold until further notice);
Harmony Day events (cancelled).
Due to the relatively small numbers that attend, the following events at this point are still continuing: Parent-Student-Teacher Interviews and Parent Coffee Mornings.
It is important to understand that at present there is no directive for our school to close. However, in preparation for this we have been trialing online learning platforms this week. If a compulsory shut down is required, we will be ready with the following platforms to provide seamless education:
Primary: Google Classroom will be used to set work; Classroom Dojo will be used for parent information and Google Hangouts will be used for face to face video teaching;
Secondary: SEQTA will be used for communications and instructions; Education Perfect will be used for content and education on topics for all subjects, revision, tests and teachers can monitor how well kids are going. Zoom will be used for face to face video conferencing.
All of these platforms will be trialled with students and set up ready to go by the weekend. To ensure that we are ready we will be conducting an online trial this Saturday with our Year 12 students and teachers, and Mrs Hasapopoulos' Year 5 class. We have chosen Saturday and only a handful of classes to minimise the disruption to your work and home life. We trust this is appreciated. Further information regarding this trial to those affected will be emailed home in the coming days.
You will be kept up to date with all relevant information as it is received from the Department of Education and Health and should be assured that your child's safety is paramount in our decision making. Please know that our number 1 priority is the safety of your child and family. We will continue to keep you informed as new information and changes to the situation arise. Please look after yourself and take the necessary measures to minimise risk and help keep yourself and families safe and well.
We will get through this if we all work together.
Yours sincerely,
Craig Monaghan
Principal
Monday 16th March
I would like to address with you where things stand with our school and COVID-19. We have been, as a school following all directions from the Department of Health and the Department of Education. Until recently we were only required to request students who had travelled in China to self-isolate. We clearly followed this directive.
We are very conscious, as a school, not to jump on the band wagon of scare mongering. It is important to remember that up until yesterday there were only 18 confirmed cases of COVID-19 in Western Australia, none of which could be linked to Dianella. We, as a school, are implementing best practice around hygiene. Therefore, I wanted to write to you on the following matters:
We are reinforcing to both Primary and Secondary students the importance of washing hands and have made sure that soap is filled daily in toilets. It is important to note that soap is as, if not more effective, than hand sanitisers. In addition, this week we will be placing hand washing posters across the school and have directed all staff to educate students (at all year levels) on the importance of hand washing. This includes teaching Primary students to wash hands for the duration of singing 'Twinkle Twinkle Little Star'. The point is, effective hand washing takes longer than usual. Students are also, daily, being reminded to cough into their elbows, not their hands.
Signage in the Reception area will remind visitors of their responsibilities regarding not entering if they have any symptoms or are at risk and will remind visitors that greetings will no longer be with handshakes.
All assemblies are cancelled until further notice and lunchtimes will be further staggered.
School Holiday Overseas Travel:
As we approach the Easter holidays, we ask that families carefully consider any overseas travel as COVID-19 spreads rapidly across the globe. School families and staff are urged not to travel overseas for holidays this April. This is the single, most effective thing we all can do to prevent further cases of COVID-19 being imported into Australia. In line with evolving advice from the Health Department and our duty of care to the School community, we ask that all school families and staff notify us of any upcoming plans to travel outside of Australia between now and the end of July 2020. This must be done directly to This email address is being protected from spambots. You need JavaScript enabled to view it..
It is important that all parents know and acknowledge Sunday 15th March announcement by Scott Morrison, stipulating 14-days mandatory isolation for ANY persons returning from ANY international travel.
Please note this list of countries may change at any time, including while you are overseas. Additionally, many countries are introducing new entry or movement restrictions in an effort to slow the spread of COVID-19, which may disrupt your travel plans. To keep up to date with the latest information and advice, we ask that you refer to the Smart Traveller and Australian Government Department of Health websites.
Current advice is that anyone returning from Mainland China, Iran, Italy or South Korea is required to isolate themselves for 14 days from their departure date from that country. The Australian Government also considers the following countries to be at moderate risk for COVID-19: Cambodia, Hong Kong, Indonesia (including Bali), Japan, Singapore and Thailand; however, this list may change at any time.
School Closures – Information from the Department of Education:
There are rumours circulating that WA schools will close, I want to assure you that at the time of writing there is no such message, however, we are dealing with a rapidly evolving situation. If a case of COVID-19 is confirmed within our community, we will seek direction from the appropriate Health and Department of Education authorities. If the School is required to temporarily suspend operations, we will be able to continue our education programs through online delivery with educational programs delivered remotely for the students. This week, we will be working with our staff this week developing a 'Microsoft Teams' online teaching approach to prepare our staff and students for the possible eventuality. This will be particularly important for our senior students to enable them to continue in line with the requirements for their courses. The following information has been provided by the Department of Education:
If a WA school has to close due to a confirmed case, it will be on advice from the WA Health Department's Chief Health Officer. The Chief Health Officer may, if there has been a positive COVID-19 test result, close (the) school temporarily while assessment and tracing of exposure is conducted. A thorough school clean will then be carried out to make the school safe for the return of students and staff. In this situation the principal will receive direct advice and support regarding the closure process and communication materials from the Department of Education's Coronavirus support team. Upon the school being notified, all families will be immediately contacted and provided with the relevant information.
It is therefore important that we have up-to-date contact details for your children, please notify the front office if these have changed.
School-Related Travel:
Earlier, I wrote to families to confirm that all school-related international travel by staff and students had been postponed until further notice, which is in line with the directive from Government. The health and safety of our students and staff will underpin all decisions taken and we take our advice and directives on this and all other points.
In relation to planned school group or individual travel within Australia, the School will continue to carefully monitor the situation and take advice from the authorities. We will keep families informed of any changes to these plans. For the safety of our students we have cancelled the GOAANSE Sports festival which we compete in each year and we are monitoring as to whether the upcoming trip to Sydney and Canberra is able to go ahead. We will ensure that any decision on the viability of planned school groups/tours is done as early as practicable to reduce the risk of payments being made on trips that do not proceed. However, tours/trips/camps may be cancelled at short notice in the interest of student and staff health and safety or in accordance with Government directives.
School Events:
We are monitoring advice from health authorities on events and larger gatherings. At this point in time, most school-related events will proceed as planned but this may change at any time. The recommendation of the Chief Medical Officer; that all non-essential gatherings of 500 or more people be banned, has already been enacted upon with the cancellation of a number of events including the ACC and IPSHA Interschool Swimming Carnivals.
All decisions around events and gatherings will be taken in the interest of our students, families and staff. We will notify you separately about the cancellation of any future school events.
Camps and excursions are proceeding as scheduled at this time. The School continues however to take due diligence to confirm that providers and venues have appropriate health and safety practices in place. Any student who is unwell should not attend school, school excursions or camps in the interest of the health of fellow students and staff.
What if Staff and Students are unwell?
If a student or staff member is unwell, we ask that they remain at home and do not attend School. If a case of COVID-19 is suspected of a child whilst at school; based on their symptoms and travel history, we will isolate them and follow health guidelines. To assist us in keeping our students safe; if a member of your family is unwell and is suspected of having COVID-19, please keep your child/children at home until they have seen a doctor and their test results are clear. Please notify the School if your child or a family member living in the same house is being tested for COVID-19. This will allow us to support the student through any quarantine period away from School.
The COVID-19 situation is changing rapidly and we will continue to update you as required. I thank our school community for all the support. Let me assure you that despite the uncertainty surrounding the global outbreak, all our efforts are going into providing a safe and secure school environment for our students.
Yours sincerely,
Craig Monaghan
Principal
Community > St. Andrew's Grammar

With the Coronavirus (COVID-19) pandemic of the last few months we are all faced with an unprecedented global health crisis in our time. Every day the situation is evolving and we have to adapt accordingly. I would therefore like to inform you on the following decisions relating to the Consulate's activities and operation:
Cancellation of all National Day celebrations
As you know, our National Day Reception was recently cancelled, following the advice sent by the Greek Ministry of Foreign Affairs worldwide with the aim to contain the spread of the COVID-19. The Australian Government is also progressively restricting gatherings and events that can serve as incubators of the virus. In the light of the above, the most prudent and responsible approach at this stage is not to go forward with the celebrations scheduled for the 29th of March either, i.e. Doxologia and Wreath Laying Ceremony.
Unfortunately, this year's extraordinary circumstances do not allow us to pay proper tribute to the struggles of our forefathers; hopefully, when all this is past us, we will have the opportunity to do so next year, at the 200th Anniversary from the Greek Revolution that led to our Independence.
Operation of the Consulate
In accordance with the latest guidelines of the Greek Ministry of Foreign Affairs and in order to ensure the safety of the public and of its staff, as of Wednesday18th March and until further notice, the Consulate of Greece in Perth will be open to the public strictly for urgent matters and by appointment only.
With your cooperation we can try to sort out as many issues as possible by email This email address is being protected from spambots. You need JavaScript enabled to view it. or phone +618 93256608, which remain at your disposal for any assistance.
We thank you for your understanding and apologise for the inconvenience. Τhe highest priority at this stage is to preserve public health and to protect our fellow citizens.
I sincerely hope that with the contribution and responsible behaviour of all of us, we will soon get through this global health crisis and we will be able to return to business as usual.
Stay safe and warm regards,

Georgia Karasiotou
Consul of Greece in Perth
Consulate of Greece / Προξενείο της Ελλάδος
Lev.8, 16 St Georges Tce, Perth, WA 6000
Tel.: +618 93256608 Fax: +618 93252940
www.mfa.gr/perth, e-mail: This email address is being protected from spambots. You need JavaScript enabled to view it.
PLEASE NOTE:
In line with the policies put in place in order to contain the spread of COVID-19, the Consulate of Greece is implementing a series of measures to ensure the safety of its staff and of its guests.
We remind you that consular services are offered by appointment only. We kindly ask you to refrain from visiting the Consulate:
- If you have traveled overseas in the past 2 weeks and for 2 weeks after your return.
- If you have experienced any flu like symptoms or illness or have been diagnosed with COVID-19.
- If you have been in recent contact with anyone that has been diagnosed with the COVID-19 virus.
Should any of the above apply and you have an urgent issue that needs our attention, please contact us by phone and we will try to work out a solution.

We would also like to advise of some general hygiene recommendations when visiting the premises of the Consulate:
- Please continue to ensure hand washing, or the use of hand sanitiser when available. The Consulate is equipped with such items.
- Please follow the standard cough/sneeze protocol of using a tissue to cover your nose and mouth and dispose of the tissue afterwards. If you do not have a tissue – cough or sneeze into your elbow.
- Your understanding for avoiding hand-shakes will also be appreciated.
We thank you in advance for you understanding and cooperation and we hope that we can all continue to assist with preventing any further spread of the virus.
Community > Consulate of Greece in Perth

Greek Orthodox churches across the country will allow congregations of hundreds of people to sip wine from the same spoon during mass because "the holy cup cannot carry disease," the Archdiocese said Saturday 15th March.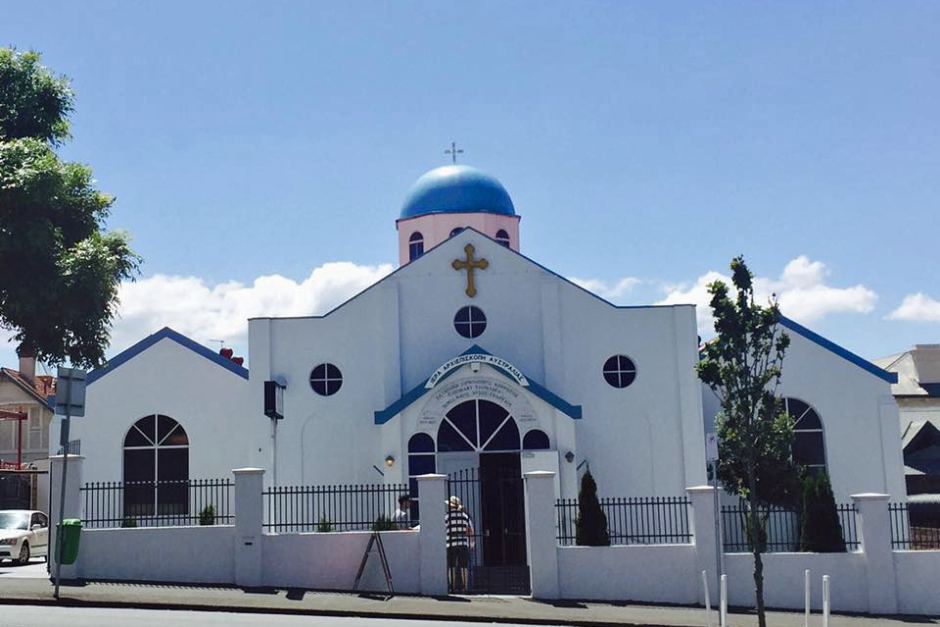 Photo: Greek Orthodox Archdiocese of Australia's Steven Scoutas says the church believes "no disease or illness can exist in holy communion".
Greek Orthodox priests dip a spoon into a chalice of wine and place it into the mouths of parishioners, as part of communion during mass. The spoon and chalice remain the same throughout the ceremony.
A spokesperson for the Greek Orthodox Archdiocese of Australia, Steven Scoutas, said anyone showing signs of illness should stay away from church gatherings.
"But once we decide to go to church, we believe there is absolutely no possibility of contracting disease from the holy cup," he said.
"We believe that no disease or illness can exist in holy communion, which we believe is the body and blood of Christ," Reverend Scoutas said.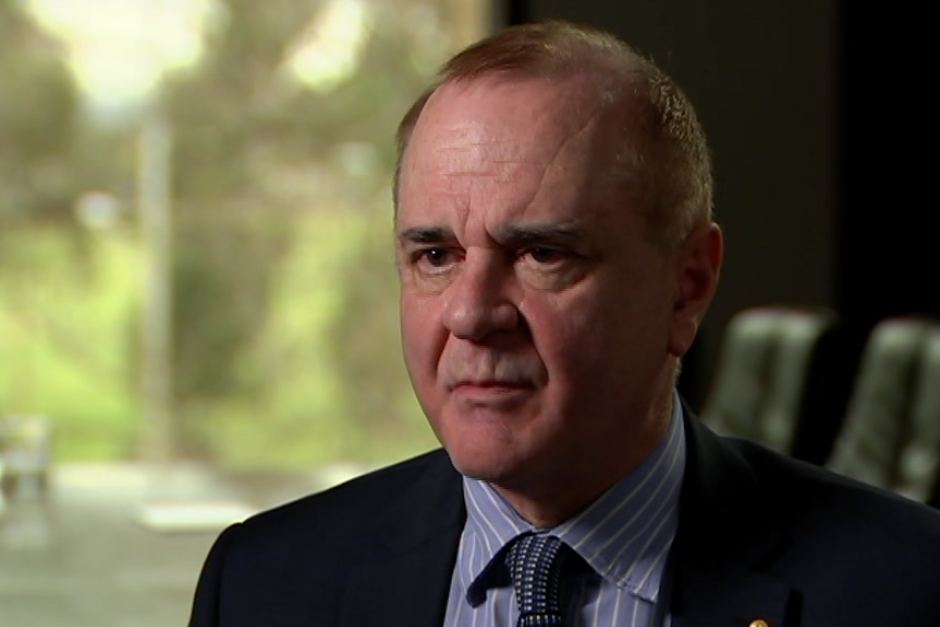 Photo: Associate Professor Julian Rait said parishioners were being put at risk by the Greek Orthodox church.
The move was criticised by the Australian Medical Association (AMA), which said parishioners were being put at risk, especially when the majority of them were elderly.
"I would doubt very much their faith would provide the protection they believe," AMA associate professor Julian Rait said.
Media > ABC News

As the Coronavirus (COVID-19) outbreak continues to evolve steadily, we wanted to share with you some important information about the steps to take to minimise the risk of exposure to yourselves and to our community.
Καθώς η επιδημία Corovavirus (COVID-19) συνεχίζει να εξελίσσεται σταθερά, θέλαμε να μοιραστούμε με εσάς κάποιες σημαντικές πληροφορίες σχετικά με τα βήματα πού πρέπει να ληφθούν για να ελαχιστοποιήσετε τον κίνδυνο έκθεσης στον εαυτό σας και στην κοινότητά μας.
COVID-19 Coronovirus Resources:
https://www.moh.gov.gr/articles/health/dieythynsh-dhmosias-ygieinhs/metadotika-kai-mh-metadotika-noshmata/c388-egkyklioi/6652-odhgies-prostasias-apo-anapneystikh-loimwksh-apo-to-neo-koronaio

https://www.health.gov.au/resources/publications/coronavirus-covid-19-information-for-residents-of-residential-care-services-family-members-and-visitors
COVID-19 Coronavirus Translated Resources Information in Your Language:
https://www.ethnolink.com.au/covid-19-coronavirus-translated-resources/#greek

Washing Hands, Protect Those Around You:
https://www.moh.gov.gr/

Πότε πρέπει να πλένουμε τα χέρια μας;
* Πριν το φαγητό ή την προετοιμασία του.
* Μετά τη χρήση της τουαλέτας.
* Μετά την επαφή με ζώα, συμπεριλαμβανομένων και των κατοικίδιων.
* Μετά το «πέταγμα» των σκουπιδιών.
* Πριν και μετά την περιποίηση ενός δερματικού κοψίματος ή μιας πληγής
* Μετά την επίσκεψη σε άρρωστους φίλους ή συγγενείς.
* Αφού φυσήξουμε τη μύτη μας, βήξουμε ή φταρνιστούμε.
* Κάθε φορά που επιστρέφουμε στο σπίτι μας.
Health > Ηλεκτρονική Υγεία

The first official visit of His Grace Bishop Elpidios of Kyaneon to St. Andrew's Grammar
On Monday 9th March, His Grace Bishop Elpidios of Kyaneon visited St. Andrew's Grammar and was very warmly welcomed by all the students, teachers and staff.
His Grace, who was accompanied by Father Terry, spoke to the secondary school during their assembly and went on to individual classes of the primary school and spoke with all the student during their morning lessons. His Grace, gave a small talk to student about his transition from being a Father to become a Bishop. Children were very engaged and enthusiastically asking many questions about His Grace's Ordination.
During recess His Grace Bishop Elpidios of Kyaneon and Father Terry spent time outside with students while they played.
Community > St. Andrew's Grammar