Due to the spread of Coronavirus (COVID-19) in the community and with our focus being the health and safety of our residents, staff and volunteers, under the advise from the health authorities, the Hellenic Community Aged Care are restricting visiting hours and number of visitors to 1 person.
Visiting times are now 10.00am to 12.00noon and 4.00pm to 6.00pm.
Access to the facility is now through A Wing.
We ask that you wash and disinfect your hands with an alcohol based hand sanitiser upon arrival, fill out the visitors book and the self declaration form also upon entering.
When leaving the facility, sign yourself out in the visitors book and wash and disinfect your hands.
Thank you
Hellenic Community Aged Care Management
Community > Hellenic Community Aged Care

Dear Members
The Hellenic Community of Western Australia is monitoring the impact of the Coronavirus (COVID-19) on our community and its members, as well as across all its institutions including Sts Constantine and Helene Church, Hellenic Community Aged Care and St Andrew's Grammar School.
The health and safety of all within our immediate community and the greater community in which we live in is of paramount importance to us. Our heart also goes out to our relatives, near and distant, who live in our ancestral homeland of Greece and the difficult times they are going through.
With this in mind we are taking advice from all the relevant Federal government agencies including the Department of Health and the Aged Care Safety and Quality Commission; The West Australia Department of the Premier and Cabinet, the State Emergency Management Committee, the WA Department of Health and the WA Department of Education.
We have also taken note of his Eminence Archbishop Makarios who has advised us to heed the words of The Holy and Great Synod of the Ecumenical Patriarchate, convened under the presidency of His All-Holiness Ecumenical Patriarch Bartholomew and their advice regarding COVID-19.
In this challenging time, I would like to take the time and echo his words that "while we acknowledge the seriousness of the situation, prudence, patience and avoidance of panic are advised."
It was with prudence in mind and the advice from the Federal government to limit gatherings of 500 people and to practice social distancing, that the Greek Consulate in Perth recently cancelled the Independence Day commemoration which was to be held on March 17.
While the action does sadden many in our community, we must concur with their exercise of prudence and acknowledge that in these difficult times tough decisions must be made in the interest of the greater community.
We will be continually monitoring the situation and will keep the community updated of any developments as they arise.
Once again, we want to assure everyone that we take the health and safety of all our members seriously and wish everyone God's blessings be upon them.
Yours sincerely
Byron Spartalis
President Hellenic Community of Western Australia

If coronavirus fears have led to holy water being removed from Roman Catholic churches, and a ban on drinking from the chalice or priests placing the communion wafer on the tongue, no such hygiene­ measures apply to the Greek Orthodox Church.
Around Australia and across the world, Greek Orthodox worshippers and their priests are instructed not to take the temporary precautions many religious bodies have adopted to prevent spreading the pandemic.
At each of three weekly communion services at the Church of Saints Constantine and Helen in Perth, worshippers sip wine from a spoon dipped into the same chalice cup. The spoon is dipped back into the cup for the next person.

Greek Orthodox Bishop Elpidios of Kyaneon with chalice. Picture: Ross Swanborough
The communion wafer is also delivered via the same spoon into the mouths of between 80 and 100 worshipers a week.
"Where science ends, that's where faith kicks in," says Bishop Elpidios of Kyaneon, who says science is right to ask priests to wash hands, but that it has no place in Holy Communion. He says at Easter services, 300 people might line up, "all communing from the same chalice and the same spoon".
At heart is the belief that no diseas­e can be contracted from the act of sharing Jesus's body and blood, represented by wine and bread. "They don't symbolise the body and blood of Christ, they are his body and blood, so no disease can be contracted from the holy cup," he says. "We've believed for the last 2000 years."
The Greek Orthodox Church said in a global statement on Monday that "attending eucharist and communion through the common glass of life certainly cannot be a cause of disease transmission".
The highest ranks of the Roman Catholic Church have taken a different tack, curtailing all rituals that risk infection. In Italy, the coronavirus crisis has even led to live-streaming Pope Francis's traditional Sunday prayers.
In Greece, the Association of Hospital Doctors has reportedly denounced some medical practitioners who side with Orthodox Church edicts that coronavirus cannot be transmitted through communion. "These doctors subordinat­e scientific truth to persona­l religious beliefs," the association said, adding that they "mislead" public opinion on serious public health issues.
But most of the world's Orthodox churches — Greek, Serbian and Russian — hold to their belief and maintain holy communion. Priests are doubly at risk, as they must drink any drop of wine left over in the chalice after all worshippers have supped from it.
"I've been a priest for 12 years, and without bragging I can say I have a very strong immune system," Bishop Elpidios of Kyaneon responds, when asked about possible infection. "If I was asked to commune with someone who had corona­virus, I would. And I would finish up the wine. It's a matter of faith."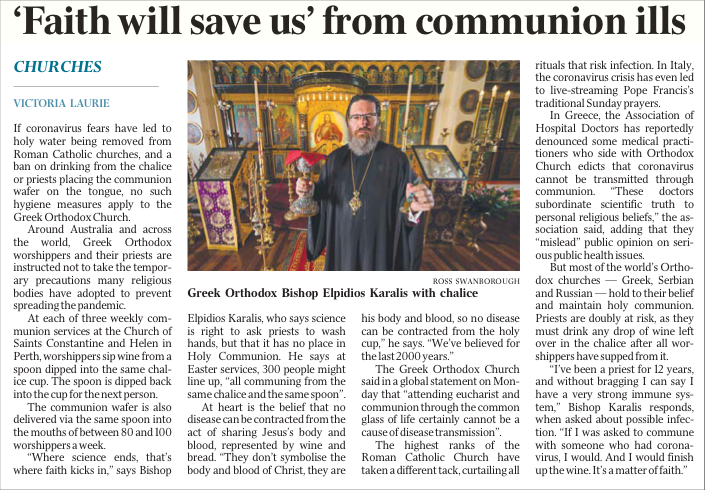 Media > The Australian

The next two months will be critical. We will remember them for the rest of our lives. I would like to offer a few pieces of information, under the burden of my professional capacity as a statistician who is working in crisis modelling and simulation, and the additional burden of the dearth of data that we have for this new virus.
Our best current estimate of the mortality rate of Covid-19 is around 1 percent, with a range of 0.5 percent-2%. This differs from the so-called snapshot CFR which is obtained by dividing the number of deaths by the number of confirmed cases, and which varies in the range of 2%-5% or more per region. The snapshot CFR is factually accurate, but not very predictive, so let's run with 1% as a median expectation.

This is still at least 20 times worse than the flu. The belief that "the flu kills more people every year" will soon be proven wrong. The related belief that "maybe most of us have caught it already and didn't realise" is also unlikely to be proven right: the virus is indeed mild in about 80% of cases, but, conservatively, for every 95 mild cases, at least 5 additional severe cases would have been admitted to hospital, and hence tested, and hence become known. Although we are extremely uncertain about the absolute number of mild cases, we have good evidence that the majority of the population has not yet fallen ill, and, as a result, the worse is yet to come. The virus is probably twice more contagious than the flu, and almost certainly contagious before symptoms appear.
So the facts, such as they are, indicate that COVID-19 is worse than the flu, more contagious than the flu, and already widespread, but nowhere near widespread enough that we have seen the worse of it. The situation in Europe (and elsewhere) is about to get worse, much worse, and fast. The only thing we can control is how fast. This is why, I reiterate, the next two months are critical. We are still within the window of opportunity of slowing the virus down - we can no longer stop it, but we can slow it down. A lot.
This is known as the "flattening of the curve": the effort to delay the peak of the outbreak, and reduce its height by spreading it over a longer period of time, so that the number of critically ill patients remain within the capacity of the national health system. The only lever we can pull right now to achieve this is behavioural change: better hygiene, and social distancing, which I elaborate upon below. Before I do, let me drive home why this is worth doing, as it is common to argue "why bother? Why sustain the economic cost? Since we're all going to get this anyway and the majority of cases are mild?".
Here is why. According to a recent count, we have about 5K ICU beds in the UK. For every death it is sensible to expect about 3 to 5 critically ill patients that require an ICU bed for about 4 weeks. Let's go with the lower bound of 3. If the case fatality ratio is correct at about 1%, and if 10% of the population gets this virus within the same 4-week period, we will require 180K ICU beds. We have 5K. That's more than 30 times higher than the available capacity. If critically ill patients have to stay at home, without mechanical ventilation, they will succumb to the disease at greater numbers. The mortality will increase. The contagiousness will increase as loved ones will have to try and take care of critically ill patients at home. The social trauma will increase as patients die in their homes.

It is hence clear that delaying this virus is now a public service. And delaying this virus is hard, but simple: try your best not to get it. You can achieve this by extreme measures of personal hygiene and moderate measures of social distancing:

- Wash your hands thoroughly. As if you've just chopped chilli peppers and you're about to remove your contact lenses. Use liquid soap or alcohol-based solution. Do it 10 times a day.
- Treat every surface as possibly infected, and your phone as a Petri dish. If possible, keep it somewhere safe with your keys and wallet and do not use it indoors, or near your bed.
- By default, cancel everything. Reduce all non-essential travel, all non-essential social interaction. Spend time with your kids indoors. Work from home if you can. Or be outdoors, keeping at least six feet between your family and other people.
- Do not shake hands. Avoid meetings in closed spaces if you can.
- But keep working, if you can. Sustain your economic contribution both demand-side and supply-side as much as you can, without exposing yourself physically. Don't watch TV and check your Facebook feed every five minutes. Stay safe, keep working.
- There is little and contested evidence that masks help a healthy individual, but it is certain they help when used by medical professionals, and when worn by people that are ill. Leave masks for those that need them.
- The elderly are particularly at risk, which is not common across all viruses. The best thing you can do for your elderly neighbours and relatives is to help them stay indoors (shop for them), but avoid seeing them in person if you can.

And remember this: democracies deal with emergencies by relying on personal responsibility and voluntary behavioural change. Take this responsibility seriously. And demonstrate leadership. It is a common misconception that leadership lies with government only. This is not true. Leadership is everywhere. Every employer, every manager, every teacher, every public servant, every parent is a leader. Everyone who makes decisions on behalf of other people is a leader. Every handshake is a decision. If you're young and healthy and fall ill, you'll most likely be OK. But the best way to protect the groups at risk, like the elderly and those with chronic conditions, is not to catch the virus yourself. Deny it the opportunity to use your body as a vector. Fight it.
The above sounds alarming, and it's meant to be. But it is not a call to panic. Panic is not only unhelpful, it is also unwarranted. Do not empty the supermarkets. We should not be anticipating shortages in staple products, so do not entertain that self-fulfilling expectation. The CDC advice is sensible: stockpile enough food in case you have to self-quarantine for two weeks. Do it responsibly: just shop twice as much in every visit, and in about a week you'll be ready. There is no reason to panic. It is very unlikely that the supply chain will collapse as a result of this virus.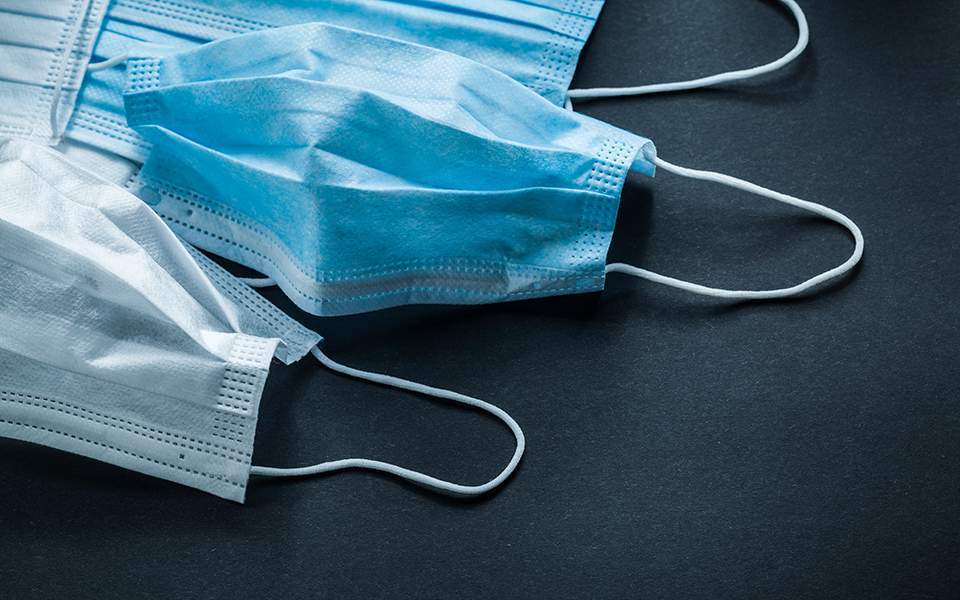 Its mortality is high, but not that high, and it tends to spare the demographic that is most crucial for a nation to function: adults between 20 and 40, who are the majority of our policemen, our soldiers, our firemen, our logistics employees, our doctors and our nurses. Even if we all catch this virus, the absolutely vast majority of those of us that need to keep on working for the nation to avoid collapse will survive it. This does not detract from the tragic effect this would have on the populations at-risk. But it is a cynical albeit rational reason not to panic, and not to fear collapse.

So be very pessimistic in the short-run. But be unwaveringly optimistic for the long-term. A vaccine is extremely unlikely to reach us in the next 12 months, but it is almost certain to do so in 18-24 months - the technology is well understood, well underway and there are no fundamental stumbling blocks. Meanwhile, anti-virals (which is the equivalent of antibiotics, but for viruses) will reach us far earlier; with some luck, they might be available within 2020. When they arrive, they will likely have a big impact on mortality and severity.

And take solace in the fact that the virus spares children under 9 (0 deaths so far). There is some justice even in this tragedy. There is also the hope, and some weak evidence, that the virus might prove to be seasonal, like the flu, in which case the summer's arrival will give us an interlude to lick our wounds, and allow the health system and the scientific community to prepare for the coming winter.

Science has come together in an unprecedented manner to combat this epidemic. I have been watching this evolve from the very first week, and recall my heart sinking when, in early February, it was observed that the virus is contagious before symptoms appear, that telltale characteristic of pandemic-strength viruses. But I have also been deeply touched by record after record being broken by scientists all around the world. Humanity has fought much nastier bugs than this, and won, every time. We will win this time, too. Share on social media, inform your friends, protect the groups at-risk, stay at home, keep working.

* Dr. Christoforos Anagnostopoulos is an Honorary Senior Lecturer at Imperial College London. Friday 13th March 2020
Media > H KAΘHMEPINH

We are justifiably proud of the qualities of our teachers here at St. Andrew's Grammar. This and the relationships which our teachers develop with their students, your children, is what our people talk about when they speak about why they love St. Andrew's Grammar. As a senior team we absolutely concur this is a real strength of our school, however with anything improvement is always our goal. Any school which does not have a continual improvement ethos will actually move backwards.



It is with this in mind that we have invested in a 3-year school improvement program named Visible Learning. This is a program devised by world renowned education researcher John Hattie. For more information I have provided the following link to this program and its workings: https://visible-learning.org/. It is based on over 68,000 studies and 25 million students.
As a staff we have already spent time actively discussing what the dispositions are that students need to be successful learners. John Hattie defines Visible Learners as students who can:
articulate what they are learning;
explain the next steps in their learning;
set learning goals;
see errors as opportunities for further learning;
know what to do when they are stuck and seek feedback.
It might be interesting to know that the effects of the following:
more than double the learning improvements of students;
collective teacher efficacy;
enhancing student expectations;
student efficacy;
effective teacher feedback and teacher clarity.
Essentially this program enables our staff and leadership team to use objective data to inform improvements and through using the expertise of their facilitators measure school and department improvements. We will be reporting on these findings and improvements at key points between now and December 2022. We are very excited on where this program can take the school in the next few years.
It might be interesting for parents to know that if teachers:
are involved in a schoolwide collective teacher develop program such as visible learning it enhances student learning outcomes by 210%
provide effective discussion in their classrooms it enhances student learning outcomes by 205%.
provide clear learning intentions with success criteria it enhances student learning outcomes by 160%.
provide effective feedback to students it also enhances student learning outcomes by 160%.
Provides student meta cognitive strategies (students learn about learning) it enhances student learning outcomes by 138%.
This is the deep self-reflection we are asking our primary and secondary staff to undertake to improve further their already excellent practices.
I would be interested in any comments from parents on any of the above at This email address is being protected from spambots. You need JavaScript enabled to view it..
Craig Monaghan
Principal
Community > St. Andrew's Grammar