At Saturday Greek School this year, children unfortunately did not have the opportunity to make Easter cookies with their teachers and participate in the usual Easter activities. However with the approval of the principal, Mr. Savvas Papasavvas, packages were sent home to students which included activities such as an Easter card, hats, baskets and of course the recipe for the traditional koulourakia. The children, with the help of their parents or by themselves, completed these activities and made the koulourakia.
Happy Easter again to everyone !!!!!
Ελληνικό Σαββατιανό Σχολείο
Στο Ελληνικό Σαββατιανό σχολείο φέτος τα παιδιά δεν είχαν την δυνατότητα να κάνουν πασχαλινά κουλουράκια με τις δασκάλες τους και τις καθιερωμένες πασχαλινές δραστηριότητες. Με πρωτοβουλία του διευθυντή κυρίου Σάββα Παπασάββα στάλθηκαν πακέτα στο σπίτι για τους μαθητές που περιλάμβαναν δραστηριότητες όπως πασχαλιάτικη κάρτα, καπελάκια, καλαθάκια και φυσικά τη συνταγή για τα παραδοσιακά κουλουράκια. Τα παιδιά με την βοήθεια των γονέων τους ή μόνα τους έκαναν αυτές τις δραστηριότητες και τα κουλουράκια.
Χρόνια πολλά και πάλι σε όλους!!!!!
President's Pascha message:
Dear members and parishioners. On behalf of your Hellenic Community Committee, best wishes for a safe and Holy Pascha. It is sad we cannot all be together for our customary Holy Friday Crucifixion Procession from our Church and Resurrection Service in Russell Square. We are, however, fortunate to be able to join these services via the facebook link https://www.facebook.com/StsConstantineHelenePerth/ This link does no require us to have a facebook account.
President's message
Although we live in changed times, the fundamentals of our Hellenic Community remain the same. Our Church, aged care, and school, continue to operate albeit not as we have been accustomed to. Be assured with the help and support of our members our Community will come through these difficult times.
Your Committee continues to oversee the dramatic shift in operating procedures in our entities. Our Church services are being streamed with Father Terry, the Psalti, and helpers in Church. Hellenic Community Aged Care will only go into lock down if it is required to do so. Restricted visiting hours for next of kin is in place and working well for residents and next of kin. St Andrew's Grammar and Centre for Hellenic Studies have shifted to on-line learning.
The Hellenic Community, Hellenic Community Benevolent Association, and St Andrew's Grammar committees are meeting regularly online.
Once the restrictions on group meetings were announced, the Committee applied to the Department of Mining Industry Regulation and Safety for a deferral of the planned 27 April 2020, Hellenic Community, Annual General Meeting.
Annual General Meeting deferred:
Approval was granted to defer the Annual General Meeting to Sunday, 22 November 2020. The Annual report for 2019 and the audited accounts will be available to members this month.
Difficult times and what lies ahead:
There would be many of our member families affected by job losses and business closures.
We are not sure how the Community communications system might be harnessed for their support.
Our members and members of associations are predominently baby boomers and/or retired.
Whether everything returns to 'more or less' normal at sometime in the future remains to be seen.
Will there be a coming out of hibernation? Perhaps now is the time to start a process of unifying our associations to better serve our Greek Australian community at the other end of these uncertain times.
Supporting your Community and Church:
While members may be physically disconnected from the Community, we encourage those who can to continue to support the Community through membership renewals and the Church through donations.
You can donate on www.hcwa.org 'donations' link and 'left click'. You may have to wait up to 10 seconds to open.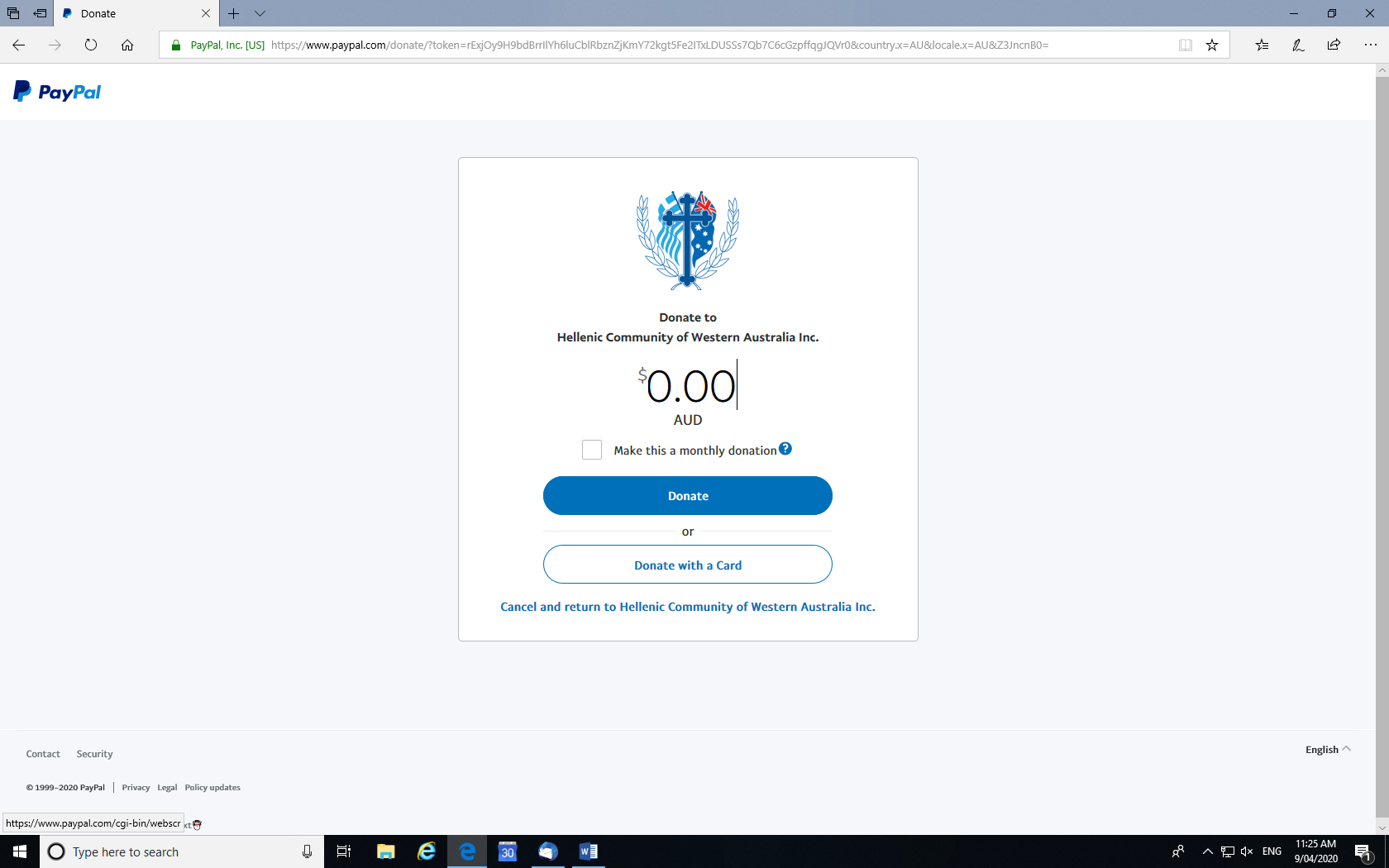 Memberships and Church donations can be also paid by funds tranfer to Hellenic Community Bankwest accounts:
BSB 306-089 a/c 2439467 for memberships.
BSB 302-162 a/c 0400298 for Pangai and Disko donations.
If you are able, please support the Community and Church during these difficult times.
SBS Portal
SBS has developed the SBS Multilingual Coronavirus Portal, providing information about COVID-19, in more than 60 languages. Since launching, it is already being shared widely including by government, health services and many community organisations. It is also available on Australia.gov.au and the Commonwealth Government's WhatsApp channel.
May God bless each and every one of us
Keep safe, best wishes to all.
Byron Spartalis
President

The Centre for Hellenic Studies is in alignment with St. Andrew's Grammar's guidelines and the recent Department of Health precautionary measures on Coronavirus (COVID-19).
Practicing good sneeze/cough hygiene is the best defence against viruses. The preventative measures put into place are:
Washing of hands frequently with soap and water, before and after eating, and after going to the toilet.
Children will have access to sanitisers in classrooms.
Cover your cough and sneeze and use alcohol-based hand sanitiser, dispose of tissues - ensure all used tissues go directly into a bin.
Sharing of food and sharing of water bottles strictly to be avoided.
If unwell, do not attend school and avoid contact with others (stay more than 1.5 meters from people).
In addition, because of the Coronavirus outbreak, all Greek National Day (25th March) festivities organized by the Centre for Hellenic Studies have been cancelled.

Your Graces, beloved fathers and beloved children,
With pain of soul, but at the same time, with a sense of pastoral responsibility on a sensitive matter which concerns public health, I communicate to you that, due to the extraordinary measures that the Federal Government of Australia took to restrict the spread of the Coronavirus, we are compelled to suspend public worship in our Churches.
This means that from today our Churches will remain closed to the faithful. However, all Services, the feast days of the Saints, and the Divine Liturgies will be conducted only by the Priest and the Chanter. Sacraments and funerals will continue to take place but only in the presence of the immediate family members.
During these difficult times for all of humanity and especially for our country Australia, I urge you to show understanding, unity and confidence both in the Leadership of our Nation and towards our Holy Archdiocese. I call upon you all to pray more. I ask that you place your trust in God. It is a trial that we are experiencing, but we Orthodox know very well that after the Crucifixion comes the Resurrection.
There is need for patience, unity and collaboration. Resurrection will come soon. With love in Christ,
In Sydney, on the 19th day of March 2020,
Your Archbishop
† MAKARIOS of Australia




Θεοφιλέστατοι Αδελφοί, αγαπητοί πατέρες και αγαπητά μου παιδιά,
Με πόνο ψυχής, αλλά, παράλληλα, με αίσθημα ποιμαντικής ευθύνης για ένα θέμα ευαίσθητο που αφορά τη δημόσια υγεία, σας ανακοινώνω ότι, λόγω των εκτάκτων μέτρων που έλαβε η Ομοσπονδιακή Κυβέρνηση της Αυστραλίας για να περιορίσει την εξάπλωση του κορωνοϊού, αναγκαζόμαστε να διακόψουμε τη δημόσια λατρεία στις Εκκλησίες μας.
Αυτό σημαίνει ότι από σήμερα οι Εκκλησίες μας θα είναι κλειστές για τους πιστούς. Ωστόσο, όλες οι Ακολουθίες, οι μνήμες των Αγίων και οι Θείες Λειτουργίες θα τελούνται κανονικά μόνο από τον ιερέα και τον ψάλτη. Τα μυστήρια και οι κηδείες θα τελούνται σε απόλυτα στενό οικογενειακό περιβάλλον.
Παρακαλώ, σε αυτές τις δύσκολες στιγμές που περνά όλη η ανθρωπότητα και η Αυστραλία που είναι η νέα μας πατρίδα, να επιδείξετε κατανόηση, ενότητα και εμπιστοσύνη τόσο προς τις Αρχές του τόπου μας όσο και προς την Ιερά Αρχιεπισκοπή μας. Σας καλώ όλους να προσεύχεστε περισσότερο. Σας παρακαλώ να έχετε ελπίδα στον Θεό. Είναι μια δοκιμασία που περνούμε, αλλά εμείς οι Ορθόδοξοι γνωρίζουμε πολύ καλά ότι μετά τη Σταύρωση ακολουθεί η Ανάσταση.
Χρειάζεται υπομονή, ενότητα και συντονισμός. Η Ανάσταση θα έρθει σύντομα. Με αγάπη Χριστού,
Ἐν Σύδνεϋ, τῇ 19ῃ Μαρτίου 2020,
Ὁ Ἀρχιεπίσκοπος
† Ὁ Αὐστραλίας ΜΑΚΑΡΙΟΣ