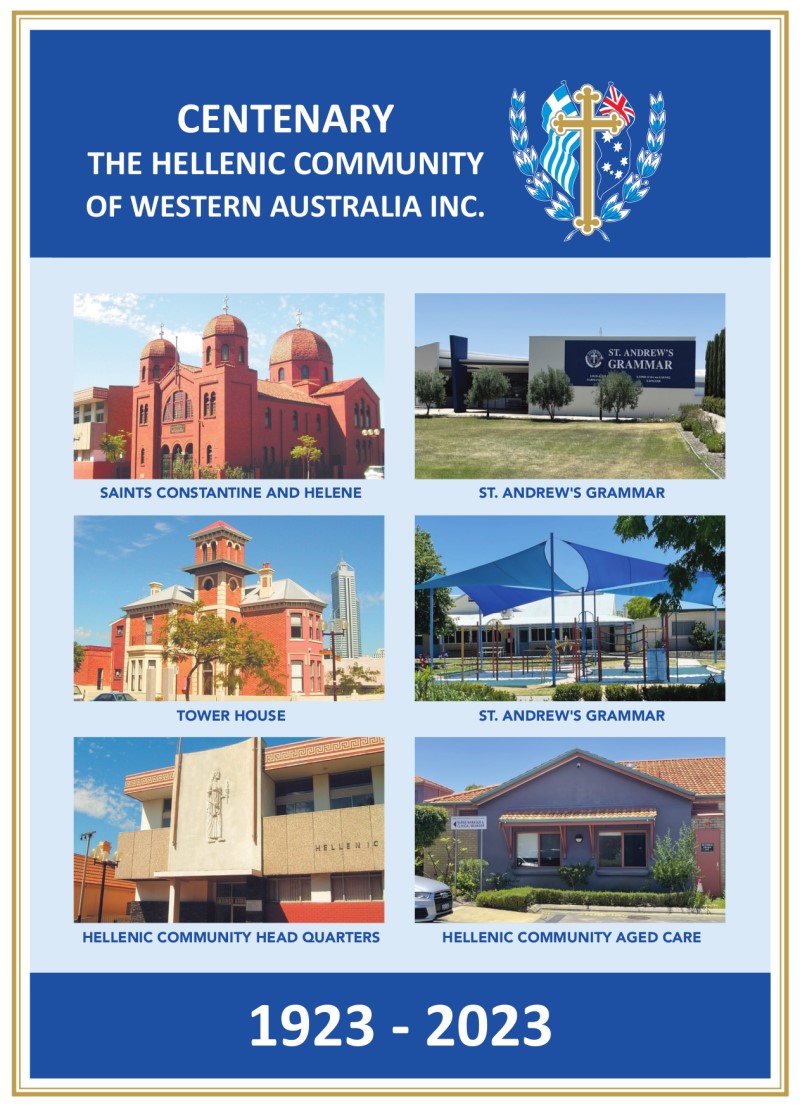 Hellenic Community Committee Elections - 11 June 2023.
Paul Afkos OAM, President.
Pavlos (Paul) Savvas, Vice President.
Emmanuel Takoniatis, Secretary.
Dennis Pilarinos, Treasurer.
Tim Damianides.
Spiros Damianides.
Apostolos Mantzouranidis.
Effie Mazgaltzidis.
Theo Papasavvas
Anna Smilovitis.
Dimitrios Tsokos.
Peter Vatistas.
Committee members, present and past, and Community members with specific expertise nominated to Subcommittees to support, and advise the Committee's in meeting its responsibilities.
Church: Paul Mantzouranidis and Peter Vatistas.
Building: Emmanuel Takoniatis, Paul Mantzouranidis and Peter Vatistas.
Centenary: Peter Katsambanis, Anna Smilovitis, Tim Damianides, Anna Caratozzolo, Paul Afkos and Peter Vatistas
Finance: Dimitrios Tsokos, Dennis Pilarinos and Paul Afkos.
Information Technology: Spiro Damianides and Theo Papasavvas.
Publicity and Media: Paul Savvas. Anna Smilovitis, Spiro Damianides, Paul Afkos and Theo Papasavvas.
Social: Paul Savvas, Peter Vatistas, Paul Mantzouranidis, and Theo Papasavvas.
Hellenic Aged Care Board: Father Evangelos Battalis, Dennis Pilarionos, Jim Bivoltsis, Effie Mazgaltzidis, and Dr Roger Warne and Paul Afkos.
St Andrew's Grammar Board representatives. Eleni Evangel Chairperson, Paul Afkos, Dimitrios Tsokos, George Karageorge, Peter Katsambanis, Evan Nicholas and Fotis Gardounis
MANAGEMENT COMMITTEES BRIEF TO MEMBERS.
Dear members,
We write to you with the heading of "our community going forward".
In this issue of our Newsletter, you will read many articles from all our entities owned by the Community and under the control of your elected members on the Management Committee. You will also read of other Greek Australian community associations of their successes worthy of mention so we may acknowledge their work and contributions to our shared pride in their achievements in Hellenism.
They are,
Hellenic Community of Western Australia

Hellenic Community Benevolent Association, owner and operator of Hellenic Community Aged Care,

St Andrew's Grammar, owner and operator of St Andrew's Greek Orthodox Grammar,

New (under formation) Hellenic Community of Western Australia Women's Needs Foundation,

Greek Australian RSL.

Resurgent Greek Senior Citizens group.

Castolorizian Association of WA National Conferences.
Since June 2023 the elected Management Committee, has considered and worked on many matters following on the good work by previous Management Committees and Subcommittees.
With much confidence we can say progress is healthy and very positive we have a strong financial position, with details included in this newsletter.
Community Centre in Parker Street.
Over the past 3 years we have prepared some conceptual plans to redevelop Parker Street halls. Commercial tenants to occupy 6 of the 8 floor levels contemplated, will provide viability for an investment of $30,000,000. To progress our vision and ambitions, we have met with State Government, Federal Government, and with the City of Perth planning department, to present architect prepared concept plans to gauge their interest and later support.
We have also a scheduled meeting with the Minister for Education, Mr Buti MLA, to request if possible, during his department's present study of educational campuses in the city, that our 2 halls in Parker Street be considered in the study. All this is work is in progress.
You will all be aware the noise from the upper level gym was an ongoing source of complaint. Revo gym, an otherwise good tenant, upon completion of their second term lease vacated the upper hall. Notwithstanding their departure, the hall was left in a pristine condition and we thank them very much. They cleaned, repainted, and bought all areas of the main hall to almost new condition, available for new tenants or Community use.
We are planning to remove the candle making facilities into a new factory unit facility, to be built either next to the aged care or purchase an already built factory unit for this purpose and to provide much needed storage space for all Community entities. Whilst candles have bought cost savings to our Church, the committee will offer facilities and our candles to other orthodox churches.
Optus has approached the Community to locate mobile telephone antennae on the Community Centre. The Committee has considered the offers received and rejected the offer. Of concern to the Committee is the length of the lease and the potential impediment to a redevelopment of the Community Centre site at some time in the future.
For the present, the Community will pursue ways of upgrading the upper and lower halls, including relocating candle making activity. This will restore the driveway to its original purpose as a delivery point for the Centre and have access to the kitchen. We're preparing applications for funding from WA lotteries and other government departments to assist in funding the upgrade of the lower hall which require an expenditure of $130,000.
New to our Community.
At more recent 100-year celebrations was the very well organized by the women of our Community which was very well attended High Tea at the Hyatt, we announced the Hellenic Community of Western Australia, being the central community association representing all Greek Australians, that it will establish a Foundation. The Foundation will aid our community's women of all ages in areas of mental health, domestic violence, and general needs for wellbeing. The Foundation will be managed by our women and will attend to assist others with in our Greek Australian Communities.
The Community will provide $100,000 to commence the Foundation to assist with basic funding. We anticipate by end of this year; the Foundation will be established and have gift deductible recipient (tax deductible) and charitable registrations.
For this part of the 100-year celebrations, we would like to thank the following ladies who organized the high Tea. Evelyn Palassis, Nina Keene, Pam Andony and Frankie Papakostantinou.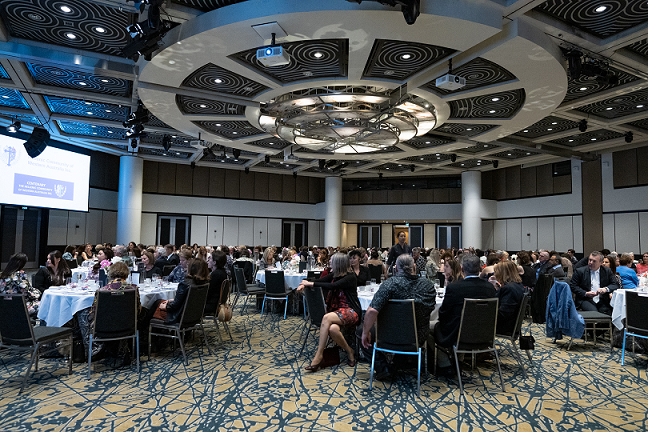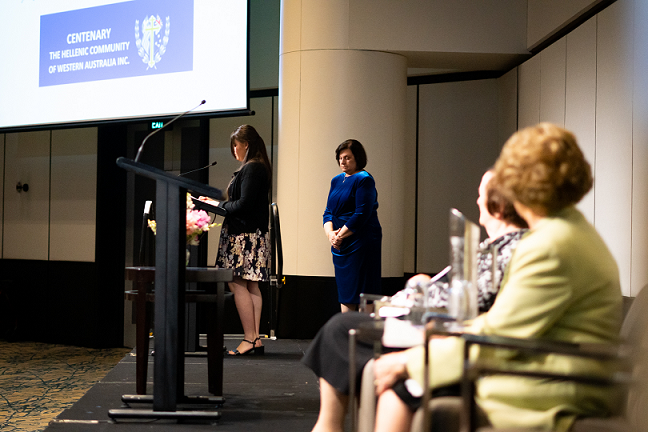 Hellenic Community Aged Care (HCAC).
Hellenic Community Aged Care is consistently improving in many areas, in the quality of service, in the quality of food preparation, in the overall management which is reflected by the strong occupancy and its present financially strong position.
The aged care is now on a growth plan with the clearing of boundary land for increased land use to the benefit of the school and the aged care. A new limestone retaining wall is being built and increased outdoor facilities with pleasant scenery providing increased space to be used for the residents for walks or enjoy seating in a lush green environment.
New buildings programme.
The Hellenic Community Benevolent Association (HCBA) committee and Aged Care Board have a $3.5M building and upgrade program to be completed in 2024 comprising:
A new two level administration and meeting facility construction will commence this year along with a reconfigured car park. We are in the progress of seeking development permits from council. This expenditure will be $2.7M to be met paid from reserves. Upon completion of the construction, the Hellenic Administration staff in the demountable building will be relocated to the new building. This will allow clearing of the corner block for future developments.

The financial year for the aged care ended on 30 June 2023 and delivered a surplus of $1,000,065 after depreciation of nearly $325,000. This is great improvement since the 2019 loss of around $250,000 Thank you must be extended to the Management Committee, the Aged Care Board Chaired by Fr Evan Battalis, management and staff for contributing to the better overall outcome.

Existing reception and nurse administration, along with the central courtyard will be upgraded at an estimated cost of $0.8M to be completed once the new administration and meeting facility is in place.

The Aged Care Board has commenced discussions with Murdoch University for university student nurses to complete part of their training at our aged care facility. The University will be sending nurses to work as part of their training in our aged care to the benefit of our valued residents. I

ncreased positive exposure, can improve occupancy and generate increased income.

The Aged Care Board and the Management Committee are working very well are to be congratulated for the overall improvement in our aged care. Please come and visit our aged care facilities as we progress our improvements.
Stage I of the refurbishment is now underway with the construction of a retaining wall on the western boundary with the School. This wall will extend eastward to underpin an extended north-side carpark. Stage II will involve construction of a multilevel administration building and reconfigured adjoining south-side carpark. Stage III included clearing the existing reception and clininal manager offices and installing a multipurpose space for resident-family interaction with tea and coffee facilities, meetings, and a new reception work space.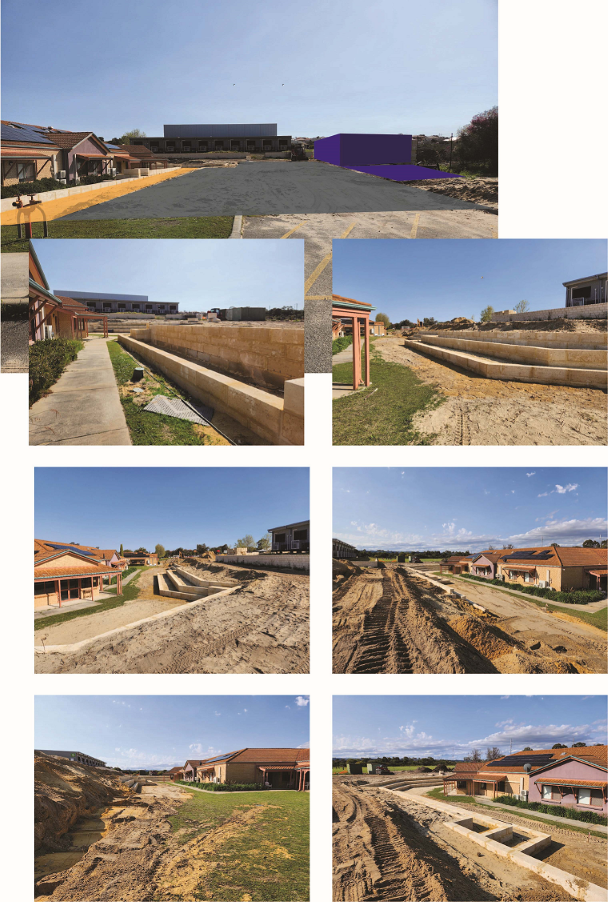 Works Underway at Hellenic Aged Care
Updated website
The updated website is at: https://hellenicagedcare.org.au
Solar Panels Operating
Western Power approved the operation of the solar panels installed earlier this year.
The panels, on a clear day, are producing most of Hellenic Aged Care power needs from mid-morning to mid-afternoon.
Hellenic Aged Care was successful is receiving covid support grants of over $230,000 to compensate for some of its extraordinary wages and other expenses incurred during its 2022 covid outbreaks.
Resident Activities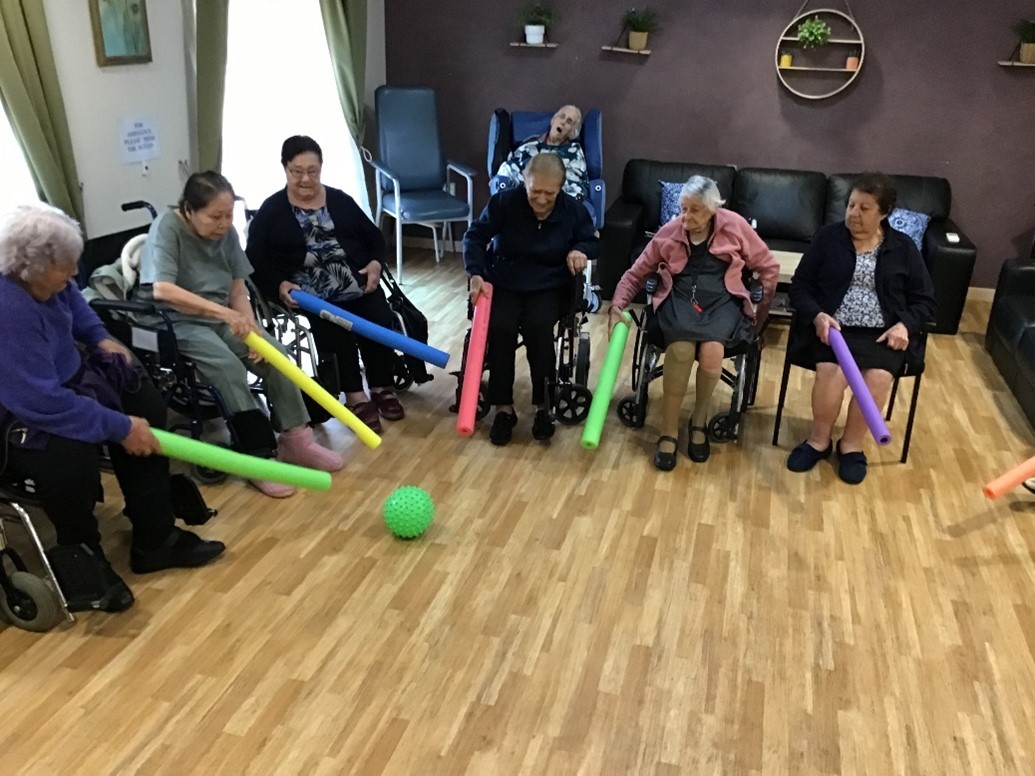 Noodle Hockey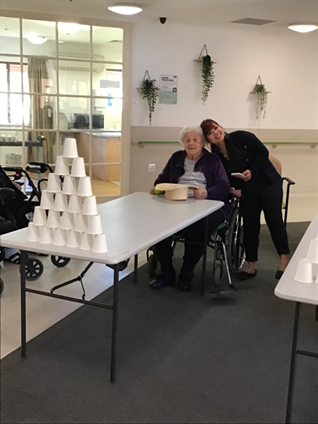 Table Bowls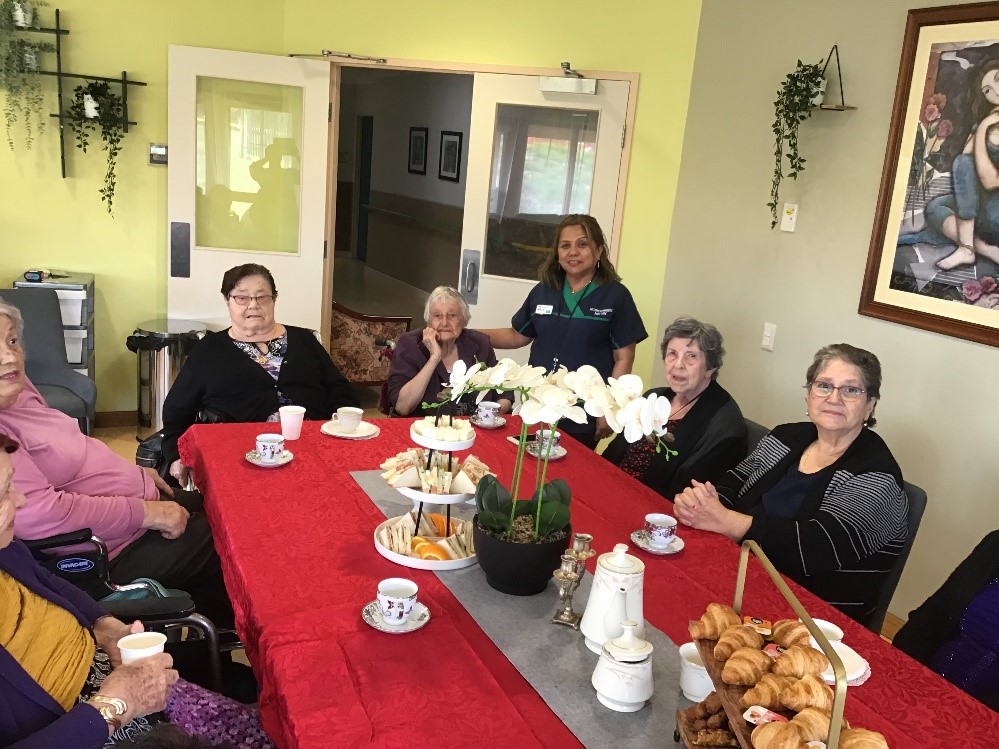 Church of Saint Constantine and Helene.
Our Church has some challenges for the Management Committee to address. Over the past three years our efforts in correcting the financial operating positions of other entities owned by the Community, with careful management of the operations and the introduction on more volunteers on each management board, the Aged Care and Saint Andrews Grammar are collectively showing over $2,000,000 surplus.
We are not complacent, and we acknowledge the Church losing attendances and is continuing to record financial losses as it has over the past 10 years, with only 2020 showing a very small surplus.
We cannot continue with other entities of the Community enduring the Church's financial losses. We need to have, like many other churches, methods in place to raise funds for the needs of the Church. At present we are well short with funds for the Church. Free morning teas and free lunches is not sustainable at present. We need corrected and to continue to host its lunches and morning teas.
The Management Committee in 2024 will put in place a Church Council with expertise to work collaboratively with the Management Committee in identifying the fall in attendances, income, programs to encourage the return of members and other matters, to go forward.
The Committee will call from members and friends of the Church for volunteers to be part of the Church Council and contribute to the growth of our Church and members attending church services.
The Committee will invite other volunteers, separate from the Church Council, to be present and rostered for duties on the Panagari. Following the establishing of the Church Council we will meet with Father Terry and all volunteers to discuss and clarify their duties and discuss steps in going forward.
Our annual and regular functions must be designed to bring the congregation closer to our Community to enjoy the fellowship that is on offer.
We are optimistic, 2024 will commence a new beginning in the management of our Church.
Repairs to the Church.
The Church requires regular repairs and maintenance in accordance of its heritage listing.
The ceiling in the exterior entrance to the Church has been replaced. Interior screens have been added to the interior of the uppermost north and south side windows of the Church.
Water ingress over time has damaged an arch on the north side. Insurance has approved repairs. Father Terry is coordinating timing to minimise interference with Church services. The repairs to tiles and clearing of the downpipe and storm water soakwell have stopped water penetration. Thtere was a subsequent inspection via drone of the Church roof tiles to identify any other repairs.
The repairs are substantial, requiring scaffolding, removal and reinstating of mortar.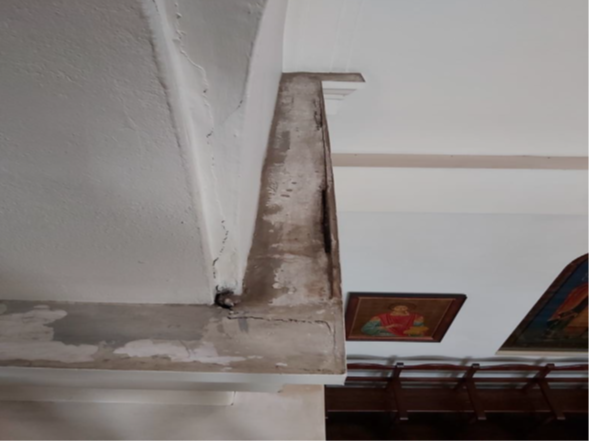 Church Water Damage
Exterior Perspex Treatment for Windows
A design for covering the exterior windows has been submitted to the Heritage Architect for approval. The design is effective, cost efficient for purchase and installation. Once approved, work will commence on installation.
Church Bookshop
The bookshop is attended by volunteers and open during Church services on Sunday. On sale are large displays of icons, books, candles, and gift ideas.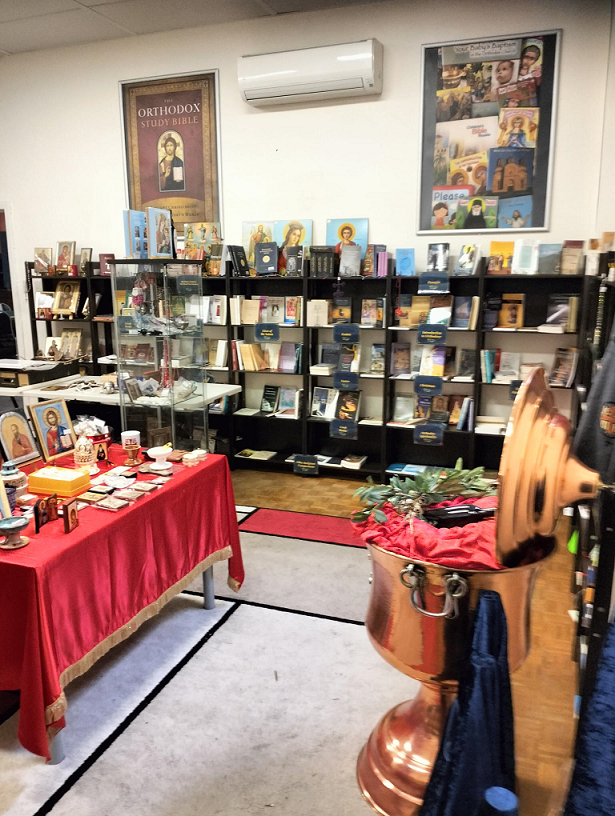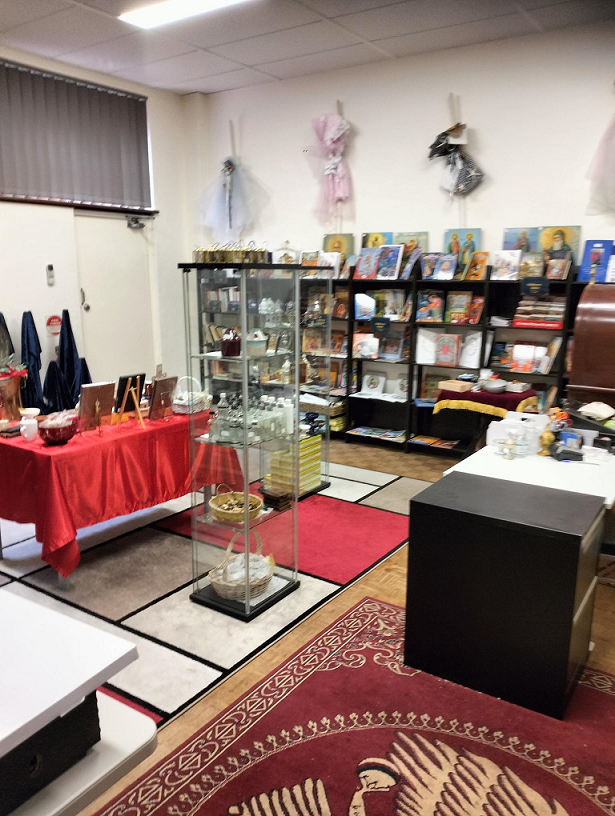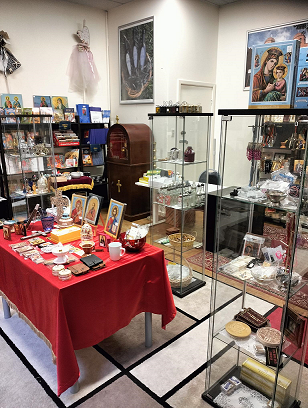 Saint Andrew's Grammar
For the past 3 years the growth of the school has been extraordinary in many areas.
Student numbers have increased: 287 (2019), 400 (2020), 570 (2021), 677 (2022), and 730 (2023).
With the increased student enrolments, federal and state grant income increased.
The growth is contributed to many factors.
A Management Committee which made the correct decisions.

The School Board is working well with the Management Committee and the Building Subcommittee with Chairperon, Emmanuel Takoniatis.
Securing a Principal with very good academic and commercial management skills, long term for 5 years.
An aggressive building plan by the Management Committee's Buildings Subcommittee and School Board to accommodate the growth.
10 new class rooms, new canteen, new music room, staff alfresco area, extended kindergarten building, relocated primary administration, and a school chapel. The building program will have a construction value of $6,500,000
OTHER PROJECTS FOR MEMBERS TO BECOME FAMILIAR WITH.
Upgrade of all the toilet blocks built in 1993 - $110,000.

Upgrade and adding extra limestone walls and seating to the original outdoor assembly area - $140,000.

The redevelopment on Hellenic Drive car park - $320,000

Reclaiming unused bush land to prepare for an access road and new buildings - $150,000.

Complete upgrade the home economics classrooms and purchase new equipment - $420,000.

Remodel the outdoor pavement area to accommodate more students during their recess - $28,000

Remodel the concrete footpaths for students' safety - $22,000.

Installation of 4 new 9.00 metre high flag poles on concrete foundations - $12,000.

Engage consultants to redraw plans and ensuring the water and fire services together with the new main electrical switch board panel is compliant.

Since moving away from Bank West, e

ngage Commonwealth Bank valuers to provide a sworn valuation for the whole of the Dianella site.

Successfully concluded the teachers' salaries Enterprise Bargaining Agreement.

Reignite the cultural activities in the school and reignite, with much help from the new Principal, the Parents and Friends Association of the school.

Introduction of the Perth Glory male and female soccer academies.

Introduction of our program to encourage Greek/Australian families to bring their children to the school.
Centre for Hellenic Studies
Centre for Hellenic Studies WA as is officially known the Greek language Saturday school, continued in success this year.
Given the high interest of parents for the Northbridge campus, it was decided to invest in new teaching equipment. New desks, chairs, boards and dividers, electrical works, upper hall blinds; worth in excess of $11,600 were acquired and installed to freshly colored classrooms. The funds for this equipment and works were sourced from the surpluses of the school from prior years.
The students participated in CGL (Certificate of Greek Language) exams with great success with all participants getting a certificate. In addition the students enjoyed various community activities like food preparation.
100-year celebrations
The 100-year celebrations theme of 2023 has been promoted by all entities of the Community with sister associations having participated in promoting the 100 years of the central Community association.
The Floreat Athena Football Club, PanMacedonian Association, Megga Alexandros Association, the women of the Hellenic Community, The Greek Senior Citizens, Florina, and the Cypriot Community of Western Australia, events promoted interest, ethusiasm and were very well attended.
We hope other associations will come and join with us to celebrate the 100 years which will end 30May 2024.
Optus Stadium Centenary Dinner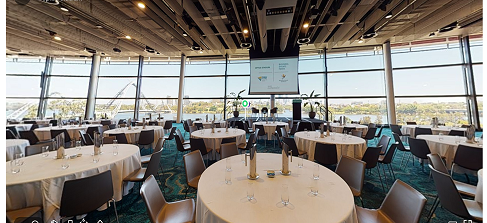 Please place in your diaries.
Saturday 10th February 2024 Centenary Dinner at the Optus Stadium overlooking the river.
In May 2024, the 100 years of history in our Community hard copy publication will be launched. The Venue and date will be confirmed.
We trust the information within this E news will better inform you on the progress of the entities owned by the Community. Should any members require more information, please contact any member of the Hellenic Community Management Committee.
St Andrews Grammar
2023 NAPLAN Results
The 2023 NAPLAN Results are in and we couldn't be prouder to share them with you. The students tested in years 3, 5, 7 & 9 have outdone themselves and produced the best results we have seen in the history of our school. This is not only testament to the students but also to the wider teaching staff and their leaders.
These results are truly cause for celebration and congratulations, with 19 out of 20 of our results being on or above the comparative measures of like schools in our area.
Our NAPLAN Results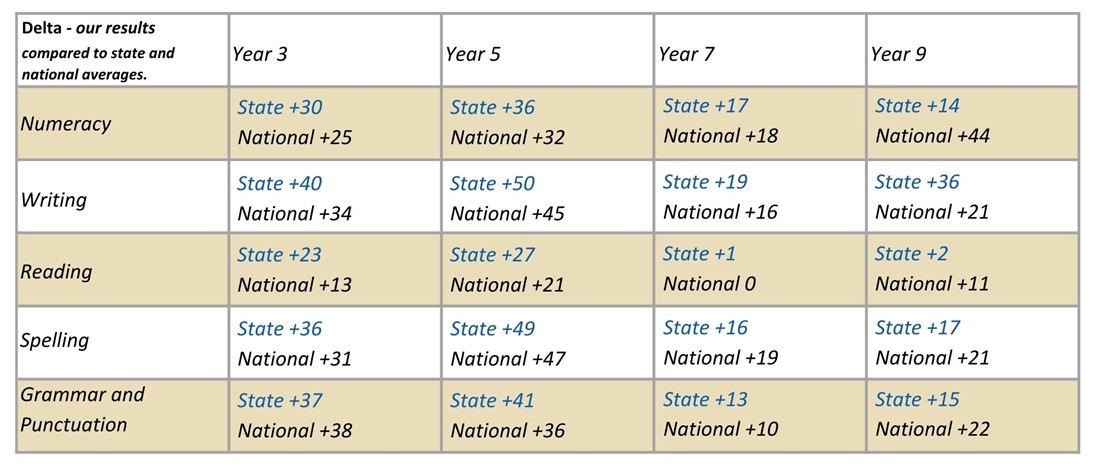 NAPLAN Comparative Results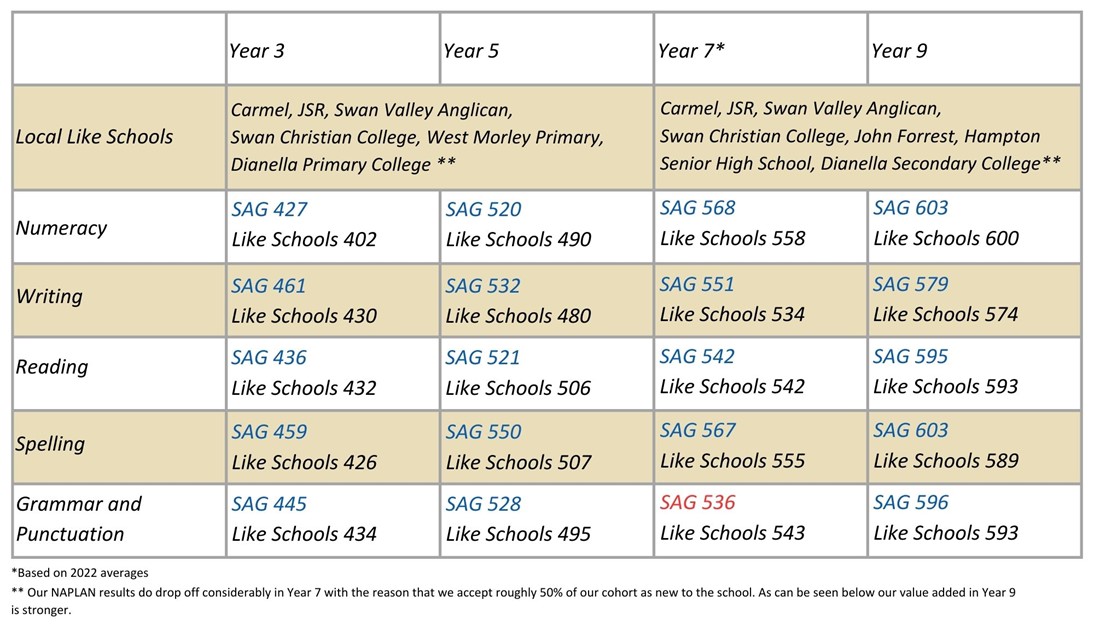 GREEK CORNER - Ελληνική Γωνιά
This year, the Primary School Greek Department have made many positive changes to their lessons and programs.
Our new Greek rooms have created a positive vibe and the students are enthusiastic about coming to Greek. Having two separate classes has also allowed for an extension program to run for every class in years 3-6, to further develop the language skills of those capable. The energy and enthusiasm seem in these advanced classes is obvious to all.
Also, the Greek Curriculum Coordinator has been reviewing the amazing programs and ensuring they follow the Australian Languages National Curriculum. As a staff we have attended Professional Development opportunities to constantly improve our delivery and to not only develop our skills but work with other languages teachers in the State.
We have created diagnostic assessments for Terms 1 & 4 to show progression across the year and we have produced rich assessment tasks to further extend our students and allow them to create their own journey based on a topic. This enables the students to be challenged and work at their level of ability.
Greek Dance has been amazing, and the students have performed at many events. All students from Kindy to year 6 have been involved with Greek dance throughout the year. These changes have been amazing, and the students are benefiting immensely from these.
Our department continues to seek improvement and we aim for the best in Greek Primary Language.
Stelliani Tzavellas
K-6 Greek Curriculum Coordinator
15TH AUGUST, DORMISION OF THE THEOTOKOS
15 ΑΥΓΟΥΣΤΟΥ, Η ΚΟΙΜΗΣΗ ΤΗΣ ΘΕΟΤΟΚΟY, ΤΟ ΠΑΣΧΑ ΤΟΥ ΚΑΛΟΚΑΙΡΙΟΥ
The Feast of the Dormition of Our Most Holy Lady Theotokos is celebrated on August 15 each year. The Feast commemorates the repose, "kimisis" or "falling-asleep" of the Mother of Jesus Christ. The Feast also commemorates the translation or assumption into heaven of the body of the Theotokos. On Tuesday 15th August, the Principal, 70 students and staff attended a very moving church service at Sts Constantine & Helene and celebrated the Feast with great devoutness.
Katerina Reklitis
Hellenic Cultural Coordinator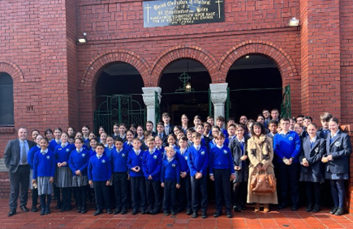 It's all Greek to Us!
A proud message that was echoed by the Modern Greek Language students who participated in this year's WAMGLTA Speak Greek Event. The event invited students to speak freely in the Greek language on the topic: "Respect for people, property, and place – what does it mean to you?"
This year marked the highest number of video entries to the annual event by St Andrew's Grammar Greek language students from classes in Year 4.2, Year 5.1, 5.2 6.2 and Year 6.3. Students took initiative, creating and directing their very own theatrical plays, poem recitals and group discussions in reference to the theme of Respect and promoted the speaking of Greek as a natural and enjoyable practice.
Students demonstrated:
Fluency in speaking Greek.
Clear communication of meaning.
Audience engagement (i.e., making eye contact with the audience/looking into the camera; using a few props/costume items to add appeal to the presentation; using hand gestures/body language to add emphasis and varying voice pitch.
The video entries have been submitted to WAMGLA Executive Committee who have commended the students for their outstanding effort in speaking Greek and promoting the language so wonderfully.
All participants will receive a Certificate of Participation and a small prize, along with public recognition through various local Greek media channels.
Congratulations to all the students for their excellent effort, enthusiasm and love for learning and speaking Greek! Very proud of you!
Συχγαρητήρια!
Maria Svarnou
Modern Greek Language & Culture
Happy Father's Day
Today, 29th August our Primary School came together to celebrate Father's Day for a scrumptious fresh cooked barbeque breakfast in the Primary Undercover area.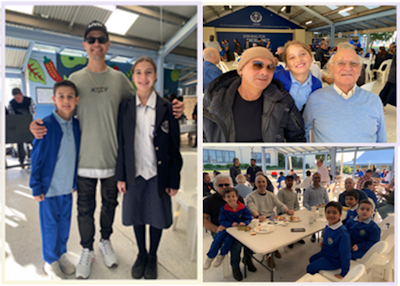 Thank You to all the staff who came to school early to prepare and serve all the wonderful Dad's, Gran-Dads, Uncles and all the other wonderful Father Figures we had join us this morning.
Our New Website is LIVE!
It's been a long road to get here but we made it!
After 10+ months of hard work by everyone involved, our new, highly anticipated St Andrew's Grammar website is now live.
As with anything new, there will be updates, amendments and additions as new things come to us but that's the nature of the beast.
We are very proud of the work we have done and invite you in to see for yourself. The look and the feel of the entire website is warm and inviting, just as we are as a school community. Visit us at sag.wa.edu.au
Dates to Remember: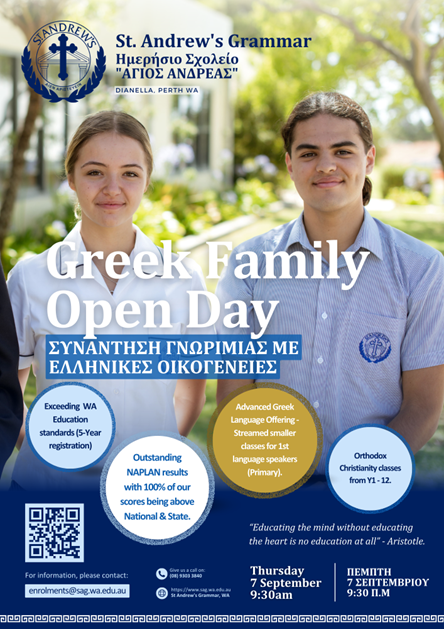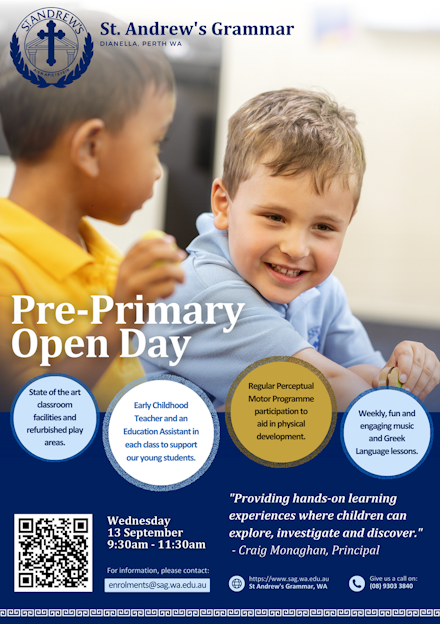 St Andrew's P&F Grammar Community Fair
Our newly, reinvigorated and relatively newly formed P&F Association Members have been working tirelessly to bring a huge event to the St Andrew's Grammar Community.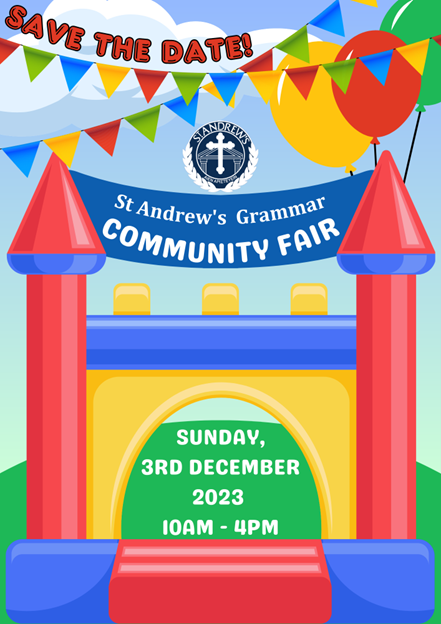 Work is underway by our dedicated events team to turn the grounds of our school into a spectacular event scheduled for Sunday December 3rd and to tie in with celebrations for St Andrew's Day which is on November 30th.
There will be amusement rides, food, dancing, singing, special guests and market stalls making way for a wonderful day out for everyone who attends.
This is a huge undertaking but with the team we have recently formed, we know this will be a community fair like no other.