Dear Members,
Christmas Message from the Committee of the Hellenic Community
The Committees of the Hellenic Community and its entities from September 2022 are:
President: Paul Afkos OAM.
Vice President: Peter Katsambanis.
Secretary: Emmanuel Takoniatis.
Treasurer: Dennis Pilarinos.
Paul Savvas.
Anna Smivolitis.
Spiro Damianides.
Arthur Katris.
Paul Mantzouranidis.
Sam Sialtsis.
Dimitrios Tsokos.
Maria Papasavvas.
The Committee extends to all members its best wishes for a safe and happy Christmas. Let us all rejoice in the blessings of our faith and families.
Community Centre
Conditional approval has been received from the City of Perth for the upper floor to revert to a community hall. The Committee is reviewing options for meeting the requirements. The upper floor has been painted and carpet tiles laid.
Hellenic Community, Hellenic Community Benevolent Association, and St Andrew's Grammar Committees pursued major projects at St Andrew's Grammar and Hellenic Aged Care during 2022.
Northbridge
Church of Saints Constantine and Helene
His Grace, Bishop Elpidios of Kyanea Christmas Message
Dear Members of the Hellenic Community of WA
When Christ was born, all of creation offered their gifts to the Newborn as emphasised in the Liturgical Hymnody of the Orthodox Church:
The Angels rejoiced and offered the hymn "Glory to God in the highest, and on earth peace" (Luke 2:14) as they fell and worshipped Him.
The heavens offered the star that showed where Christ was born, and The three Wise Men offered their gifts which included gold, frankincense, and myrrh.
The shepherds upon hearing the hymn of the Angels hastened to Bethlehem and displayed homage to the One born of the Virgin and returned proclaiming to all this wondrous paradox.
The earth offered a cave and the wilderness a manger while the ox and ass in the cave offered their simple warmth of breath.
The righteous Joseph offered his protection to the Christ Child and His Mother while humanity partook in this historical and salvific event by offering the Virgin Mother.
Like the Shepherds and the Wise Men, we are also asked to offer our Saviour a small gift this Christmas. However, our Lord does not desire or seek worldly gifts, but all He asks from us is our heart, so He can cleanse, soften, soothe, and sanctify it.
He wishes for us to lay aside every grudge and bitterness and to approach Christmas with a clear conscience allowing us to, "Partake of the food of Paradise" (Stichera Idiomela of the Feast).
Having these few thoughts in mind, on behalf of His Eminence Archbishop Makarios of Australia, I would like to take this opportunity in wishing you and your families a blessed, salvific Christmas and a peaceful 2023 filled with joy, love, and hope.
May Christ our God, Who was incarnate by the Holy Spirit and became human through the Holy Theotokos, grant all humanity health, happiness, and every blessing from above.
Early in the term of my term, the Pangari was sent to a cabinet maker for much needed restoration. Over the years, the damage to the drawers, hinges, and base were left unattended. Drawers. doors, hinges and base were repaired and much needed varnish was added.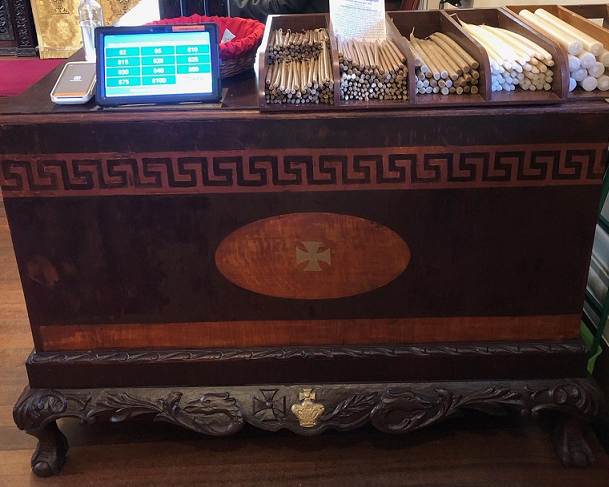 NBN installation at the Church of Saints Constantine and Helene is a first step in broadcasting Sunday services to residents at Hellenic Aged Care and to parishioners at home.
Father Terrys Community Centre office and the Committee Centre office are now on the same telephone network as the school, aged care, and Hellenic Admin. Calls between all sites are now internal extension calls.
Work will commence on the installation of security cameras between the Church and the Community Centre. An application has been lodged for Heritage Council funding to install clear perspex security covers on all exterior windows of the Church. This will protect the stained-glass windows from malicious damage and enclose the upper windows to stop dust from entering.
New fees now apply for sacraments at the Church. Fee adjustments are always decided in consultation with the Archdiocese. This is the first time the fees have been increased in nearly 15 years and reflect the increased costs of running the Church.
Consideration is always given to an individual's circumstances on a case-by-case basis and discretionary adjustments are provided to families where it was required.
New Fees

Church Fee

Previous Fee

Certificate Fee

Previous Fee

Priest Fee

Previous Fee

Chanter

Previous Fee

Helper

Previous Fee

Total

Previous Total

Baptism

$400.00

150

$250.00

150

$200.00

50

$100.00

50

$50.00

50

$1,000.00

450

Wedding

$450.00

250

$800.00

450

$400.00

150

$100.00

50

$50.00

50

$1,800.00

940

Funeral

$300.00

300

$250.00

-

$200.00

300

$100.00

100

$50.00

70

$900.00

770
Our Church has stood as a landmark in Perth for 85 years. Some of our Greek Orthodox Faithful attend Sunday services, midweek services, and on special days. For the most part, we expect our Church to available for baptisms, weddings, and funeral services when the occasion arises. Being accessible on-demand, means the Church always being there and this must come at some cost.
Every Sunday morning immediately after church service the community is providing morning tea and finger food for all parishioners and we encourage all of you to come and have a hot drink and enjoy each others company.
Hellenic Community Aged Care
Covid outbreaks in March and from May to July 2022 disrupted operations. Residents were confined to their rooms at the height of the outbreak. The March outbreak was more severe while the May to July outbreak was less severe but far longer in duration. Occupancy and wages and equipment costs were impacted.
Another Hellenic Aged Care outbreak in November has preceded warnings from government and health officials of a covid third wave.
The Committee has pushed ahead with the significant refurbishment proposal. This proposal involves a new two storey building connected to the existing building on the access road to the facility, a reconfigured carpark, a covered walkway to the main entrance and refurbished reception with a coffee lounge, and multi-use areas for meetings and resident family get togethers.
The western and northern vegetation has been removed to make way for new landscaping to improve the exterior amenity for residents and families.
The Chapel will open out to a grassed amphitheater with seating.
The western boundary adjacent to the school oval is being transformed with seating and quiet areas. Pathways will allow residents and families easy access to all areas.
A new two-level administration building will be constructed on the access road of the western boundary with the school. This building will connect to the south-west wing of Hellenic Aged Care. The car park will be reconfigured with a covered walkway will surrounding the car park.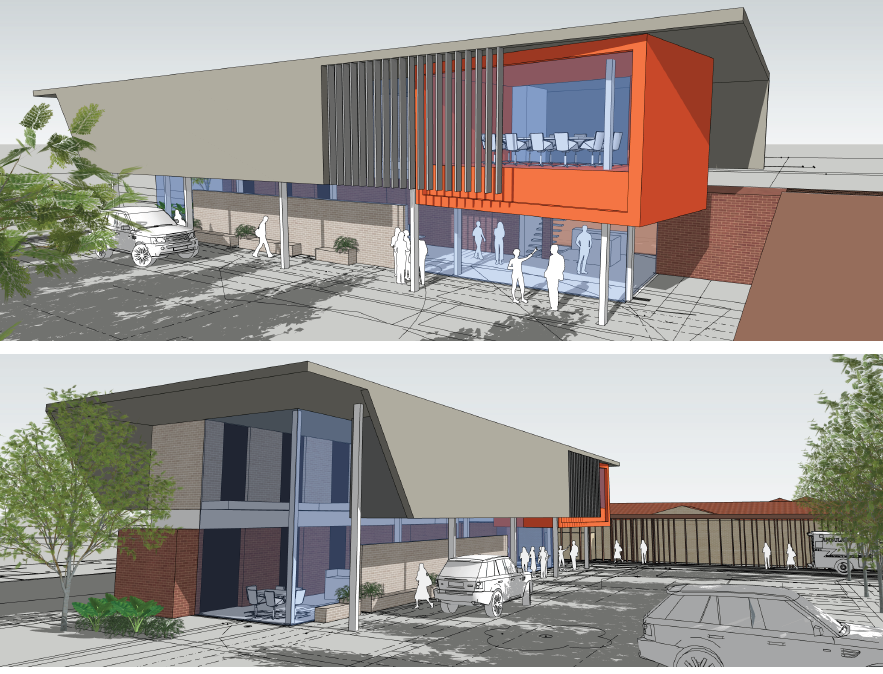 Visit of Evzones
The Presidential guard and Consul of Greece visited Hellenic Aged Care on 2 November. Residents were informed of the history of the Evzones and parade rituals before the guests joined residents in a barbecue lunch.
100 Years from the Destruction and Genocide of Asia Minor
Interested members attended a remembrance at the Hellenic Community on Sunday 16 October 2022. Presentations from President, Paul Afkos OAM, Costa Demetriades, and Savvas Papasavvas, informed the audience of the events 100 years ago.
Students from the Saturday Greek Classes and the instructor read poems from the era.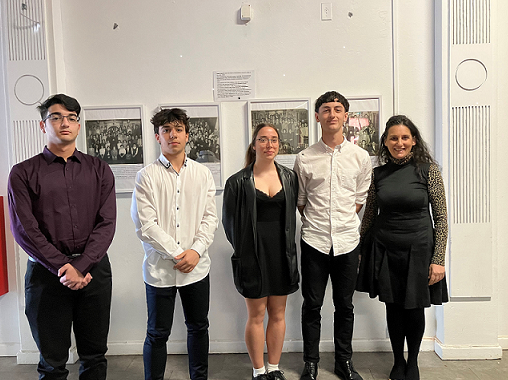 Apostolis Fortiades, Lambros Lambou, and provided musical interludes between the student presentations.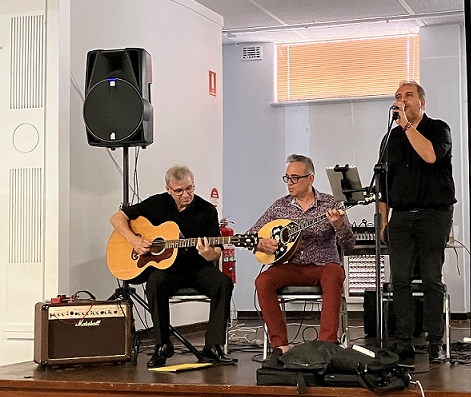 St Andrew's Grammar
Congratulations to our Student Leadership Team elect for 2023. We will suitably and officially induct our Student Captains at the start of next year at our 2023 whole school Blessing assembly, but as elections and speeches and interviews have been completed, announcements are appropriate to be made:
Congratulations to our 2023 School Captains:
Captain – Nicholas Moursellas
Vice Captain – Jovan Nastoski
Sports Captain – Benjamin Terrazas
International Captain – Jenny Nguyen
Academic Prefect – Suraj Punia
Service Prefect– Leon Nguyen and Yasmeen Abdulla (shared)
Hellenic Ambassadors – Georgia Kikiros and Kalliopi-Evangelia (Kalli) Chamogeorgos
Apollo Captain – Lazar Jovanovic
Demeter Captain – Kon Stergiou
Poseidon Captain – Nia Petrelis
Artemis Captain – Dion Nagra
You would have noticed our carpark asphalt is now set and the alfresco seating around the canteen has also taken shape. Thank you to our Chair of Building Mr Emmanuel Takoniatis who has supervised the works (pro-bono). We are very grateful for the progress.
Line markings for our extended carpark have been recently painted and shelters and outdoor seating are also on their way to be constructed once supplies are available.
Our school will be expanding with more new students in the secondary school in particular, and this will require another 5 demountables to face the current new demountables we have hired, and located behind the gym. This temporary measure will accomodate with quality new classrooms, the growth of our enrolments with next year being at 730+ students. Once the new STEM building is constructed we will return the hire of the demountables to our industry partners, AUSCO.
During mid-2022 a structural change was also implemented with both Finance and ICT Departments moving to school management. The increased size of the school required the necessary change. The school has welcomed this change and is appreciative of all that the Hellenic Administration provided in the past when the school was smaller. We thank SAGInc and Hellenic Administration and the School Board for permitting this change following recommendations from the School.
Debating
Teachers from the Secondary HASS and Science Departments, debated for the whole secondary school the topic "Is there life out there beyond earth?"
Secondary students loved seeing their teachers battle it out in a debate of wits, content, manner and method. The winning team were the negative team who were the Science Department.
Further Students Vs Staff debates were an ongoing feature this last month. Students have benefitted from learning from role models about how to project confidence and assert opinion.
IPSHA Academic Challenge
Congratulations to our Year 4-6 Primary team who won first place with a score of 98 at the IPSHA Academic Challenge at St Mary's Anglican Girls' School battling against 37 Teams from the top schools in WA. The entire school is very proud of our primary Team.
Kindness Garden
Our primary school have embarked on creating a kindness garden in an unused section, near the kindergarten, for all to enjoy. This was implemented on tree planting day and the area exudes a peace and stillness where the only sound is the birdsong to be heard in the eucalypt tree at the centre of the kindness garden. More work is to be done on this concept but a bench seat is already there with stepping stones leading to it to create a place of welcome and reflection for wellbeing.
Tree Planting Day for Secondary School with AUSCO supplied cottonwood trees on 26th August
Our industry partner AUSCO donated to the school over 100 cottonwood trees on tree planting day for secondary students to be involved in a sustainability project. These trees have been planted on the edge of the secondary oval to eventually provide a noise screen from Reid Hwy. We are grateful to AUSCO for being involved in the school and supporting Arbour Day. AUSCO also provided lunch for our hard working tree planters. It has been a pleasure working with our industry partners AUSCO.
World Scholar's Cup
Congratulations to our Secondary students who entered the World Scholar's Cup competition competing against 20 other top quality schools in the state and approximately 800 other students. Our teams did well qualifying as a Western Australian finalist amongst four other top academic teams from other schools, who like us, have also made it to the Global Cup challenge. The medals our students achieved says it all. Congratulations St Andrew's Grammar! Our students are amazing.
St Andrew's Grammar finalists for the future Global Round competition

Our Secondary students enjoying the medals they won for their academic prowess
Premier's ANZAC Tour Finalist selected from St Andrew's Grammar
Our Year 10 student who is also one of our two 2023 Hellenic Student ambassadors, Georgia Kikiros, has been honoured as a winning finalist to attend the Premier's ANZAC Tour to Sydney and New Zealand in 2023. Georgia wrote a paper to enter the competition and she has been selected as a state winner for the academic competition which has rewarded her with a seat on the Premier's ANZAC Tour together with a nine other state winners in this prestigious competition. We congratulate Georgia Kikiros on her outstanding achievement. We are so proud of her!
Bronze for Australia
Our School Captain Rhyme Loto is to be congratulated for winning the Bronze medal for Australia in the WAKO – World Kick Boxing Championships. Not only did this young man serve the school as an excellent role model and School Captain but he excelled in his sport and has had the chance to travel to Europe for finals. We are so proud of him!
Australian Mathematics Competition: Western Australian Awards
We congratulate Matthew Wang in Year 5 who has been recognised as one of the top mathematics students in the state with a winning score of 99.94%. Matthew will receive his award at the ceremony to be held at Christ Church Grammar. Well done to our student Mathew Wang.
Special Event at St Andrew's Grammar
We have also enjoyed the very special honour and visit to St Andrew's Grammar of Vice Admiral Mikros and the Evzones (Presidential elite Guard) from Greece for our OXI Day celebrations on November 2.
Our students presented superb performances in the amphitheatre of drama, dance, music and speeches. As the Presidential Guard marched in, we were amazed at the self-discipline and endurance later described regarding the commitment it takes to be a member of the elite guard. The Honourable Consul of Greece Ms Georgia Karasiotou, who is also a member of our School Board, arranged for the special visit and students had the opportunity to ask many questions about the experience of being a Presidential Guard. We are grateful to Ms Karasiotou for her input into the school's cultural experiences. It was interesting to note the symbolism in the uniform which included knowledge about the 400 pleats, representing the liberation of Greece from the years of Ottoman occupation. The Consul explained to students that the meaning of OXI is "No". The cultural immersion we experienced as a school was extraordinary and unique. The Sunday wreath laying ceremony at King's Park finished the itinerary for our visitors from Greece. It was a privilege for our School to be involved. Thank you to our students and staff for their contributions.
Images of our celebration assembly with the Evzones and the Vice Admiral in our Amphitheatre.
Images of the visit of the Evzones to King's Park for the wreath laying ceremony in which St Andrew's participated
Technology
Thank you to our parents who attended the Technology Plan 2023 and Beyond parent-meeting in the Hermanis building. While the levies will increase for the technology equipment our school must provide for students to ensure a cybersecure environment, we were delighted that our parents saw the huge value for money and security that the plan offers. In addition, the convenience of everything being done by the school with the laptop lease model also was well received. Under our new plan, students from Years 1-12 will not be able to access sites they should not be accessing in the classroom and on the school grounds. In addition the consistency with wifi access will be greatly improved and students will be able to use the best state of the art equipment for their ICT learning needs. We are delighted to be partnering with Microsoft for this plan and our teachers are greatly in support of this huge upgrade for the school and for teaching and learning. Thank you to our ICT Manager and our new ICT team for the vision and momentum to enhance all systems and equipment.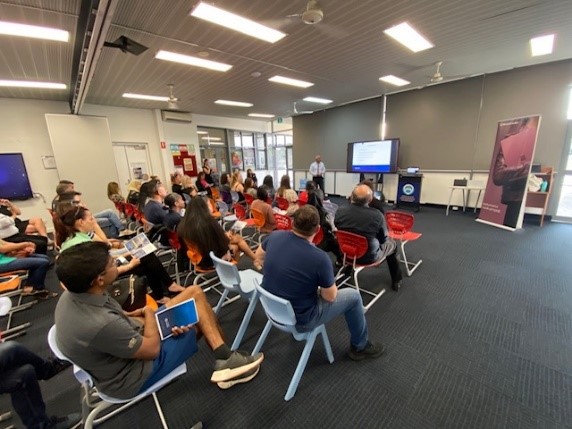 Technology Plan 2023 and beyond parent meeting
Capital Works
We celebrate our growing school and the team have been hard at work ensuring facilities are being upgraded
The Capital works over 2021/2022 that have been achieved are:
extension to Hellenic carpark
alfresco concreting to canteen area
hire of 5 demountables with another 5 coming for 2023
new carpet in classrooms
new shade sails to primary playground
resurface of primary assembly area
re-paint of sections of the school
repairs to plumbing and electricals
home economics renovation
flag poles
Other items planned for 2022/23 include:
more shade sails at student alfresco areas and sports grounds
staff small kitchen and alfresco refurbishment
food trailer for secondary and healthy eating vending machines
swapping entrance and exit of Boddington carpark with signage for better presence and to ease traffic congestion
research for future STEM building financial feasibility and hopeful commencement of works for this important enterprise to provide for St Andrew's Grammar, contemporary facilities to support learning excellence.
We are grateful for the support of our amazing Chair of Board, Ms Eleni Evangel, our Board and previous Boards, and for the support of SAGINc.
Our current Board comprises:
Ms Eleni Evangel, School Board Chair
Mr Jim Tsokos, Chair of Finance
Mr Evan Nicholas
Mr Steve Paradiss
Mr Paul Afkos OAM President of the HCWA
Mr Peter Katsambanis Vice President of the HCWA
Fr Terry Gerovasilis
Ms Georgia Karasiotou, the Hon Consul of Greece
Mr George Karageorge
Mr Garry Spartalis
Over the last two years our school has grown by over 200 students and in 2023, we will be even bigger and closer to doubling our size since 2020. The target set by the School Board is 850. This will be achieved over the next three years. Several excellent academic programs have been implemented, Primary new programs 'talk for writing' 'well-being' programs and other 21st century learning activities for students. There is now an increase in subject electives and offerings at secondary level, increased sporting and cultural opportunities and so much more! The foundation of the school with its promotion of Hellenism and orthodox Christian values remains strong. We are appreciative of the many services for our school that were presided over by Fr Terry and His Grace Bishop Elpidios. It is always wonderful to have the year commence with the Blessing Service and to also celebrate special occasions like St Andrew's Day with a School Service. We also thank Fr Terry for the many thoughtful reflections he has provided the staff team on staff days and for his willingness to be involved. Our P & F have also contributed to the student experience with movie nights for students, Colour Fun Run Days and other activities that were not impacted by Covid lockdowns as was the case particularly in 2021. It has been interesting to note that both 2021 and 2022 commenced the year with covid restrictions which seriously impacted cultural and contextual opportunities in the school. We are glad that the covid restrictions are over, but I commend the staff team who ensured our students would still experience an enjoyable school environment despite those restrictions imposed upon us to not allow year levels to mix, to not have assemblies and other such previous limitations for the period of time WA was affected by covid mandates.
Many events have been experienced this term bringing smiles to faces such as the Grand Parents' breakfast and other events where our Canteen staff have supported us as well as Ms Lampropoulos with thoughtful catering for significant events. Our students enjoyed the excursion to see 'Frozen' with Years 3-6, and students received the extra bonus of being able to engage with the cast and producer after the show to ask questions. Our NAPLAN results once again were stunning with all Year levels who sat the tests achieving above state and national average results for all modes. Our students have enjoyed many camps, tours and activities throughout the year such as our Broome Tour which was an amazing adventure and highlight.
Several other activities have continued to shine within the vibrancy of our school community's calendar. Our new look Year book of 2022 is also a huge upgrade and I thank my personal assistant, Ms Powell for her diligence in co-ordinating all articles and liaising with the printer. We have begun a new tradition of printing student art work for the front and back cover of the Year Book from now on, and this has been an appreciated opportunity for our students.
My heartfelt thanks go to my executive team and the amazing staff at St Andrew's Grammar for their diligence, good spirit, and consistent striving for excellence. It is amazing what can be accomplished through good team work.
Thank you to the community for their support. The souvla that our Greek Liaison Officer, Savvas Papasavvas organised earlier this year was a fun occasion and well supported. Mr Papasavvas has also been busy with organising fund raising movie nights and connecting with the Alumni to create a network of people willing to support the school. He has also helped the school with finding value for money trades people who have provided quality workmanship at the school. We thank Mr Papasavvas for his endeavours to support the school.
This year we are also grateful to a parent who has been so appreciative of the hard work of the staff of the school, that he has decided to pay for the end of year staff luncheon so that staff do not have to bear any cost. This is extraordinarily generous, and the parent wishes to remain anonymous, but it is testimony to the good work of the hard working, caring and excellent staff team of St Andrew's Grammar who are greatly appreciated by the school community.
A reminder that our very special 'Arts Exhibition Evening' of Drama and Art will be presented for the community on Friday 2 December. All are welcome.
Our best wishes for Christmas and the New Year.

Dawn Clements
Principal